If you don't already know, Jamboard is a new interactive, cloud-first whiteboard created by Google. It's built around an idea of maximising collaboration and the future of work. I have put together a list of 6 ways Google Jamboard can dramatically improve your meetings in 3 core areas; connectivity, collaboration and productivity.
Connectivity
1. Hangouts Meet Integration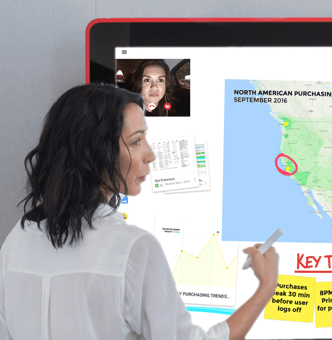 Google Jamboard is seamlessly integrated with Hangouts Meet, so you can work with anyone, wherever they are in the world. Jambopard is also equipped with a wide-angle camera, built in mic and vibrant dual speakers.
Google has recently announced that G Suite users who configure Hangouts Meet can now add up to 50 users on a single conference call. This update does not apply for the consumer version of Hangouts, only G Suite Enterprise Edition users.
2. Contribute to Whiteboard Brainstorming on Any Device
Have you ever been sat in a meeting with a brilliant idea and unable to express that idea because the agenda has progressed past that topic, or you've joined the meeting remotely and feel it's hard to express your thoughts, or maybe you just don't want to interrupt the flow of the meeting?
You can now capture your thoughts by using the Jamboard app to add content to any board or frame you want. Your ideas will be added to the Jamboard in real-time.
Check out this cool feature by downloading the Jamboard app that's available on iOS and Andriod, for mobile, tablet or desktop.
RELATED POSTS


- The Meeting Room by G Suite
- Transitioning to the Future of Work and the Workplace
- The New Digital Workplace Experience with Google Jamboard
Collaboration
3. Part of the G Suite Family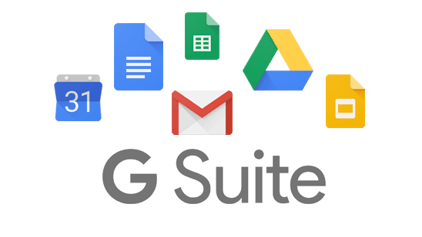 Google Jamboard is a new edition to the G Suite family, meaning you can sync your boards with Slides, Docs, Sheets and Google Drive. You can also save your Jams to Google Drive, making it easy to refresh your memory on the notes and actions from your previous meeting.
4. Up to 16 Touch-points for Every Device
You can fit up to a massive 16 people around one Jamboard at a time, with a 16 touch-point response limit. Even with a 55" screen, 16 fingers would be a bit crowded!


Productivity
5. Search the Internet From Your Jamboard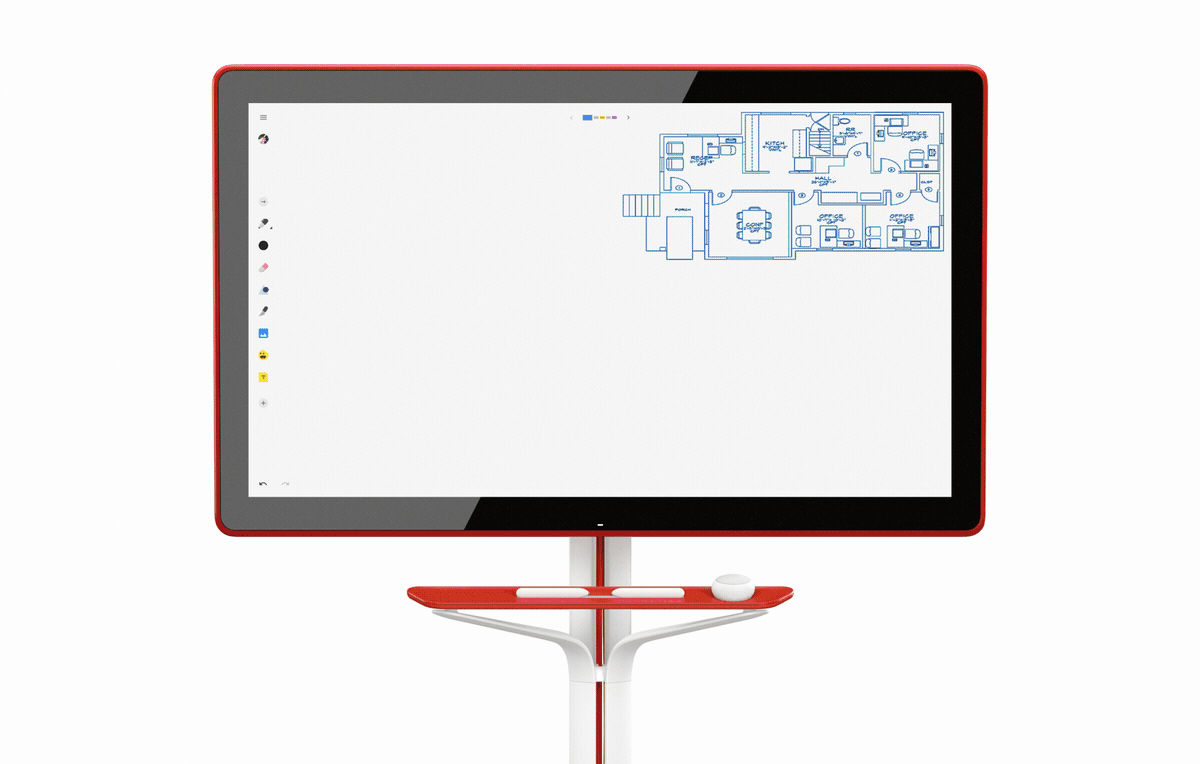 No need to get your phone or laptop out to Google something, you can search the internet right from within the Jam you're working on.
You can also clip parts of the web and insert them into your jamboard, or use an image from Google's copyright-free database to express your thoughts in a more visual way.
6. Record Your Meetings
As mentioned above, Google announced an increase to their Hangouts Meet user limit per call, but they also announced two more interesting features; recording meetings and saving them to your Google Drive, and the ability to have participants in a Hangouts Meet session dial in from all types of sources, no matter what their geographic location at the time of the call is.
I have been in some meetings where a colleague is pulled away from their work to take minutes on a meeting they wouldn't normally be involved in, this sounds like an outdated and ridiculously unproductive approach to managing meetings. This new update to record meetings, along with the integration with Jamboard, will free you a lot of time in note taking and give you more time for discussion and innovation.
Conclusion
Almost every part of the workplace has been refined and improved with technology to keep up with our competitive and demanding markets, but for some reason, collaborative tools have taken a back seat and we're still using sticky notes and whiteboards to work, but we're expected to innovate at a rate much faster than ever before. Meetings are a time for co-creation and innovation, but why is such a valuable exercise using outdated and inefficient methods?
Google has just been crowned the best company to work for in the UK by Glassdoor. Google did not get to this position by its extensive benefits alone, employees praise the tech giant's way of working; their employee experience is far better and more forward-thinking than most companies today.
The Jamboard was born at a Google Hackathon and they have continued to use it internally to collaborate on projects.
Watch our recorded webinar on "The Digital Workplace Experience with Google Jamboard".