Google Jamboard available to buy in the UK (and we can ship to Europe)!
Jamboard is a 55" 4K collaborative, digital whiteboard that makes it easy for your team to share ideas in real-time and create without boundaries. Seamless collaboration and creative brainstorming in the cloud.
Since the release of Jamboard, Google has announced that the cloud-based whiteboard is now a core G Suite service and has enhanced that integration with a unique Google Drive update.
RELATED
The Digital Workplace Experience with Google Jamboard
Jamboard Enhances G Suite Integration with Google Drive Update
Hangouts Chat Is Now a Core G Suite Service

Jamboard makes enterprise collaboration more intuitive, and free of interruptions through a human-centric design and touch screen technology.
Supported by low-latency technology that allows for 16 simultaneous touch points at once.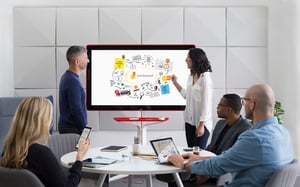 Jamboard raises the bar on collaborative creativity, bringing the same real-time collaboration found in G Suite, combined with the best of the web, to your team's brainstorms and meetings.
You can work with teammates from across the world on other Jamboards or remotely use the smartphone or tablet companion app
Click here for a Jamboard Demo / Promotional Pricing
Keep in mind that a G Suite plan is required to use Jamboard so that you can access files from Drive, use them in your brainstorms and come back to your work later. Plus, the Jamboard mobile companion apps can be used remotely so you can work on the go.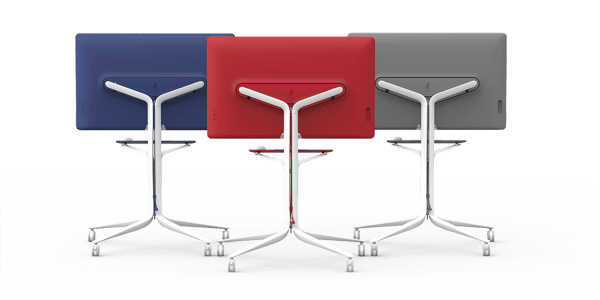 Features
55" 4K UHD display

120 Hz touch scan rate

60 Hz video refresh rate

HDMI 2.0, USB Type C , 2 X USB 3.0

SPDIF audio out

WIFI 802.11ac 2x2, NFC

1 Gigabyte Ethernet

Google Cast

Built in tilt support

Built in wide angle camera

Down firing speakers

Built in microphones

16 simultaneous touch points

Handwriting and shape recognition

2 x Fine tip passive stylus

Eraser

Microfiber cloth

Wall mount*

Rolling stand**
**for an additional fee
A collaborative, digital whiteboard built for the cloud
Jamboard is a collaborative, digital whiteboard that makes it easy for your team to share ideas in real-time and create without boundaries.
Better creation
Use creative drawing tools, clip content from the web using Google Search and add images and content from Google Drive or your smartphone.
Better collaboration
Project the Jamboard into Hangouts, participate from your tablet or phone and work with multiple Jamboards within or beyond the walls of your company.
Better saving and sharing
All your work is saved in Google Drive and your jams also retain their interactivity, so you can pick up right where you left off and your ideas are not erased away.
Intuitive and easy-to-use
Moving and resizing objects is natural, just like on your phone or tablet, and the stylus and eraser work without any batteries or complicated pairing or setup.
Portable and quick setup
With the optional rolling stand and a single power cable, you can take Jamboard with you and jam on the go. Plug it in, flip it on and start jamming right away.
Uncompromising design
Jamboard was custom designed to meet the highest standards of fidelity and responsiveness. Low Latency touch technology delivers a lag-free experience.
The Jamboard comes in Cobalt Blue, Carmine Red, or Graphite Gray.