Google Jamboard available to buy in the UK (and we can ship to Europe)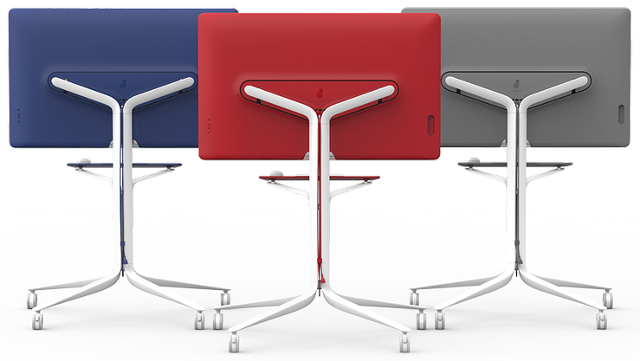 Google announced the Jamboard way back in October of last year. Then, in March, the search giant revealed that the Microsoft Surface Hub competitor would go on sale in May of 2017. Unfortunately, May came and there was no Jamboard -- until today.
The award winning Google Jamboard is now available to buy in the UK through Generation Digital - authorised resellers and installers of the Google Jamboard for the UK market.
Get in touch to a book a Jamboard demo, request pricing or discuss installation options...
Jamboard is a 55" 4K collaborative, digital whiteboard that makes it easy for your team to share ideas in real-time and create without boundarie

s.

Seamless collaboration and creative brainstorming in the cloud.

Jamboard makes enterprise collaboration more intuitive, and free of interruptions through a human-centric design and touch screen technology.

Supported by low-latency technology that allows for 16 simultaneous touch points at once.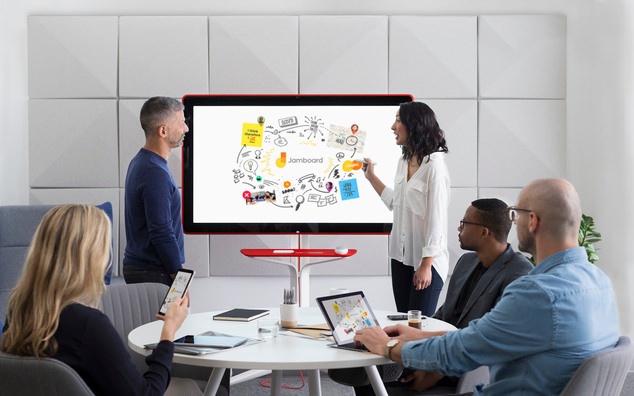 Yes, Google's Jamboard -- which requires a G Suite plan -- goes on sale starting today. If you have been clamoring for the opportunity to purchase it for your business' meeting room, you can finally part with your £3,999.
G Suite customers in the UK can now purchase Jamboard for £3,999 (GBP), which includes two styluses, an eraser, and a wall mount. This pricing excludes VAT. We're also running a promotion—if you order on or before December 31, 2017, you'll receive a discount off of the annual management and support fee, as well as a discount on the optional rolling stand. See the table below for pricing and promotion details.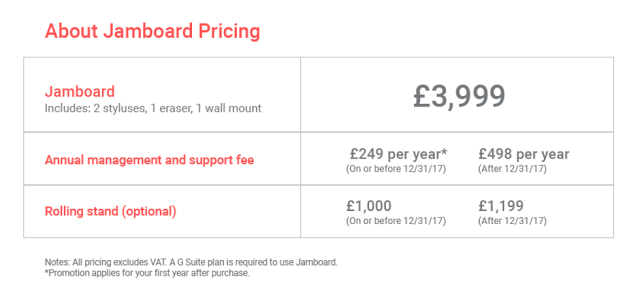 Click here for a Jamboard Demo / Promotional Pricing
Keep in mind that a G Suite license is required to use Jamboard so that you can access files from Drive, use them in your brainstorms and come back to your work later.
Varghese further explains, "Keep in mind that a G Suite plan is required to use Jamboard so that you can access files from Drive, use them in your brainstorms and come back to your work later. Plus, the Jamboard mobile companion apps can be used remotely so you can work on the go. Also, we're teaming up with BenQ to handle fulfillment, delivery and support."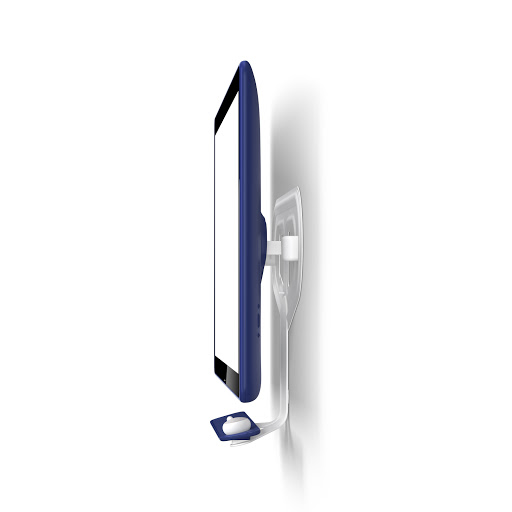 Google shares the following specifications for the Jamboard.
• 55-inch 4K UHD display
• 120 Hz touch scan rate
• 60 Hz video refresh rate
• HDMI 2.0, USB Type C , 2 X USB 3.0
• SPDIF audio out
• WIFI 802.11ac 2x2, NFC
• Gigabyte Ethernet
• Google Cast
• Built in tilt support
• Built in wide angle camera
• Down firing speakers
• Built in microphones
• 16 simultaneous touch points
• Handwriting and shape recognition
A collaborative, digital whiteboard built for the cloud
Jamboard is a collaborative, digital whiteboard that makes it easy for your team to share ideas in real-time and create without boundaries.
Better creation
Use creative drawing tools,clip content from the webusing Google Search andadd images and contentfrom Google Drive oryour smartphone.
Better collaboration
Project the Jamboard into Hangouts, participate from your tablet or phone and work with multiple Jamboards within or beyond the walls of your company.
Better saving and sharing
All your work is saved in Google Drive and your jams also retain their interactivity, so you can pick up right where you left off and your ideas are not erased away.
Intuitive and easy-to-use
Moving and resizing objects is natural, just like on your phone or tablet, and the stylus and eraser work without any batteries or complicated pairing or setup.
Portable and quick setup
With the optional rolling stand and a single power cable, you can take Jamboard with you and jam on the go. Plug it in, flip it on and start jamming right away.
Uncompromising design
Jamboard was custom designed to meet the highest standards of fidelity and responsiveness. Low Latency touch technology delivers a lag-free experience.
Ready to buy? It is currently available in Cobalt Blue, Carmine Red, or Graphite Gray.
Will your business be investing in Jamboard, or instead opting for Microsoft Surface Hub? Tell me in the comments.
Get in touch to a book demo or request pricing..
Generation Digital - Driving Digital Transformation
We partner with clients to digitally transform how their organisations work, collaborate, engage, analyse and report to help them succeed in an ever-changing market.
Generation Digital is a platform neutral partner of industry-leading technology companies including Amazon Web Services, Microsoft, Google, Facebook and Dropbox. We deliver expert consultation, design, supply, installation, integration and management of Digital Workplace, Cloud Adoption and Mobility / Identity solutions.
As a privately-held leader in new technology solutions, we employ some of the foremost experienced professionals in the platforms we support – engineers, developers, project managers, business analysts, UX/UI experts, designers, and user adoption consultants – ensuring we can provide a holistic view on the most complex business challenges, and deliver an awesome user experience to our clients.
Generation Digital is proud to work with a broad range of clients including Berendsen PLC, Woodford Investments, Algebris Investments, Sega Games, PGA European Tour & Haseltine Lake LLP. Public sector clients include the Guildhall School of Music & Drama, The National Archives and City of London.
The company is an approved Crown Commercial Service Supplier and listed on several Public Sector frameworks including G Cloud and Digital Outcomes & Specialists.
To find out more get in touch at hello@gend.co or call +44 (0) 2036 379 776