Google Jamboard Garnered Top Industry Accolades from Sound & Video Contractor and AV Technology Magazines - Jamboard now shipping in the UK.
Google Jamboard was recognized with two show awards at InfoComm 2017 in Orlando, Florida. Google demonstrated the unique capabilities of the 55-inch, 4K collaborative whiteboard at the show, earning NewBay's Best of Show InfoComm Awards for Sound & Video Contractor and AV Technology magazines.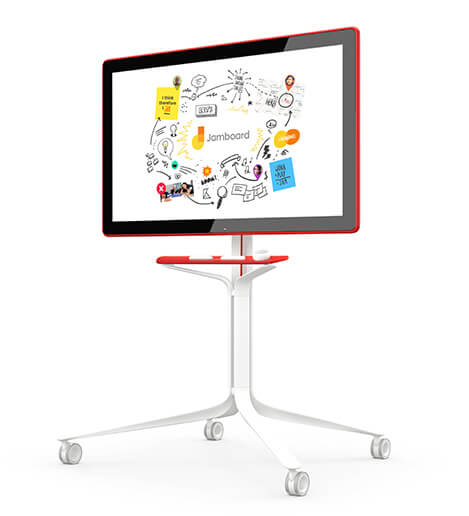 "These awards reflect not only the design ingenuity of Google Jamboard, but also the incredible attention and dedication to solve performance, productivity and ease-of-use challenges that hinder collaboration today," said Lars Yoder, president at BenQ America Corp.

Google Jamboard is a complete solution for the modern digital workplace. An exclusive headliner of BenQ's interactive flat panel portfolio, Jamboard makes it easy for teams to engage and share ideas. Ideal for the conference room or huddle space or for collaborating with a remote team via the integrated videoconferencing features, Jamboard transforms meetings into an engaging and effective experience, boosting productivity and ultimately improving the bottom line.

Jamboard integrates with G Suite, putting popular Google apps and a whole host of interactive capabilities at users' fingertips during a "jam" session. They can draw, annotate, import and scribble on images and Google Docs, search the web, communicate with colleagues via Hangouts, and it's all saved in the cloud. Users can sketch out plans in real time with teammates from across the globe via other Jamboards or the mobile and tablet apps.

The Sound & Video Contractor and AV Technology Best of Show InfoComm Awards recognize the most noteworthy and outstanding solutions of the show. They were presented on the InfoComm show floor and were selected by panels of industry experts and editors, as well as by judges' inspection at the convention.
Google Jamboard prompts teams to change how they DO their work.
With a 55-inch 4K touch-enabled whiteboard, plus intuitive software allowing users to scribble and sketch, an idea can fully come alive with powerful visual impact. It's also now effortless to import docs, share files, manage permissions, track progress and connect.
Uncompromised Design
-
Jamboard makes enterprise collaboration more intuitive, and free of interruptions through a human-centric design and touch screen technology.
Supported by low-latency technology that allows for 16 simultaneous touch points at once.
Better Creation -
Jamboard offers a versatile range of features to facilitate effortless creation.
A powerful toolbar features advanced creation tools that include handwriting and shape recognition.

Complete with two passive styluses and an eraser, no idea is limited by hardware constraints.
Better Collaboration -
Jamboard's handy video conferencing feature helps bring the whole team together and unlock their collaborative creativity.
Integration with Google Hangouts makes for smooth and productive meetings with teammates elsewhere possible.
G-Suite, Google Cloud, and online search allows users to push content onto Jamboard and continue to work on it via mobile devices.
Better Saving and Sharing -
As a collaborative, digital whiteboard built for the cloud, content sharing is intuitive and secure.
Save Jamboard content as a single image file or a compiled PDF file and send it to all your collaborators. Easily add participants to your jam with their email address, or export your creation as a PDF or image. Easily add participants to your jam with their email address, or export your creation as a PDF or image.
G Suite customers in the UK can now purchase Jamboard for £3,999 (GBP), which includes two styluses, an eraser, and a wall mount. This pricing excludes VAT. We're also running a promotion—if you order on or before December 31, 2017, you'll receive a discount off of the annual management and support fee, as well as a discount on the optional rolling stand. See the table below for pricing and promotion details.
Keep in mind that a G Suite license is required to use Jamboard so that you can access files from Drive, use them in your brainstorms and come back to your work later.
The award winning Google Jamboard is now available to buy in the UK through Generation Digital.
Generation Digital are authorised resellers and installers of the Google Jamboard for the UK market, please get in touch to get UK special pricing and services.
What Customers are Saying
"Jamboard breaks down barriers to interactive, visual collaboration across teams everywhere. It's the perfect anchor for a meeting and encourages impromptu, productive sessions. We can easily add any content to the Jamboard to capture great ideas from everyone. We immediately saw the benefits.
Shaown Nandi, Chief Information Officer at Dow Jones
Get in touch to a book demo with our experts...
Generation Digital - Driving Digital Transformation
We partner with clients to digitally transform how their organisations work, collaborate, engage, analyse and report to help them succeed in an ever-changing market.
Generation Digital is a platform neutral partner of industry-leading technology companies including Amazon Web Services, Microsoft, Google, Facebookand Dropbox. We deliver expert consultation, design, supply, installation, integration and management of Digital Workplace, Cloud Adoption and Mobility / Identity solutions.
As a privately-held leader in new technology solutions, we employ some of the foremost experienced professionals in the platforms we support – engineers, developers, project managers, business analysts, UX/UI experts, designers, and user adoption consultants – ensuring we can provide a holistic view on the most complex business challenges, and deliver an awesome user experience to our clients.
Generation Digital is proud to work with a broad range of clients including Berendsen PLC, Woodford Investments, Algebris Investments, Sega Games, PGA European Tour & Haseltine Lake LLP. Public sector clients include the Guildhall School of Music & Drama, The National Archives and City of London.
The company is an approved Crown Commercial Service Supplier and listed on several Public Sector frameworks including G Cloud and Digital Outcomes & Specialists.
To find out more get in touch at hello@gend.co or call +44 (0) 2036 379 776
https://www.gend.co/blog/google-jamboard-uk