What your business needs to know about Facebook's enterprise communication and collaboration platform
Facebook says 1,000 businesses are already using its collaboration tools, we at Generation Digital are one of those.

We are all familiar with the social technology of Facebook in our private lives, and now we can utilise this communications and collaboration platform in our working environment as well. Generation Digital have been using Workplace for a few months now, and our teams have embraced its collaboritve groups, using its work chat and facebook live features to great effect.
No, of course it is not new to have a social platform in your organisation. Most companies have seen Yammer, IBM connections, Slack, HipChat, social intranets, MS teams and Google+ etc. But where most of these tools are small products of major software companies, is Facebook from their beginning to end a social media vendor. And that becomes visible when using the platform, it's user friendly, contains the latest functionalities, is constantly improved with new features and it simply just works.
Workplace creates the opportunity to connect people in your organisation, stop the silo effrecet of business units. To facilitate interactions between people, using each other's knowledge and resources in the most effective way to reach valuable business goals. Online collaboration can increase the speed of finding the right resources, connecting experts and solving business problems. This is a great benefit for companies nowadays, where competitive advantage comes from agility, faster innovation and quicker responses to threats in the market.
Highlights of most important features
Home Stream - Entering Workplace you will land on the home page.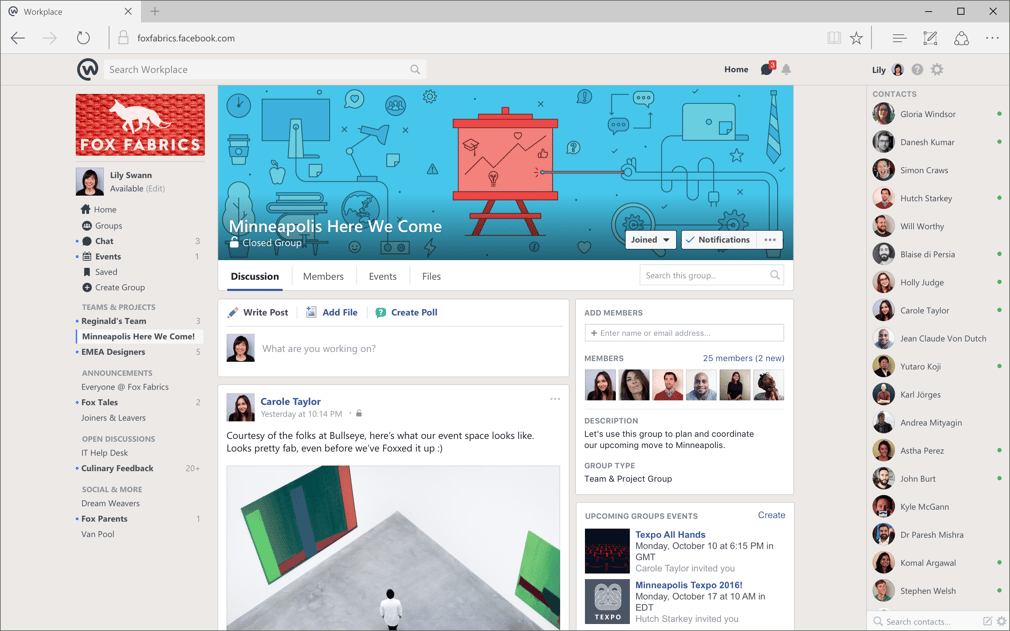 Groups - You are able to create and join groups on the platform. Use these groups to create a select audience for specific purposes and topics. For example a project group for you project team members, a group around a specific product in your organisation or a group to ask the IT service questions. Additionally, join groups that share relevant information for you, the facility management group of the office you are in or a company wide communications group to receive company news and read what the excutive team are working on.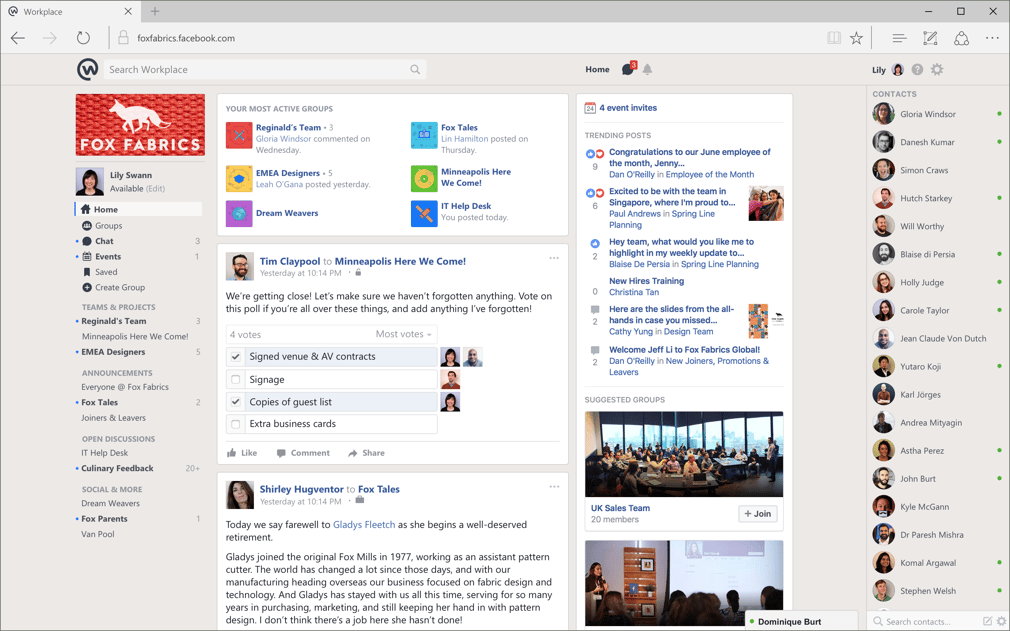 Events - Creating events on Workplace allows you to share information in a central place, giving all invitees access to this. It makes it easy to communicate to your audience and have an overview of the participants and absentees. Have people start conversations before, during and after the event. Using the discussion stream during the event, will allow you to connect to more people in your organisation.
Work Chat - Besides the communication in your groups, Workplace has a rich content messenger application. Chat one-one with your colleagues or create a group chat to have quick conversations with a group of people. Use the video call functionality to have an online meeting with a colleague.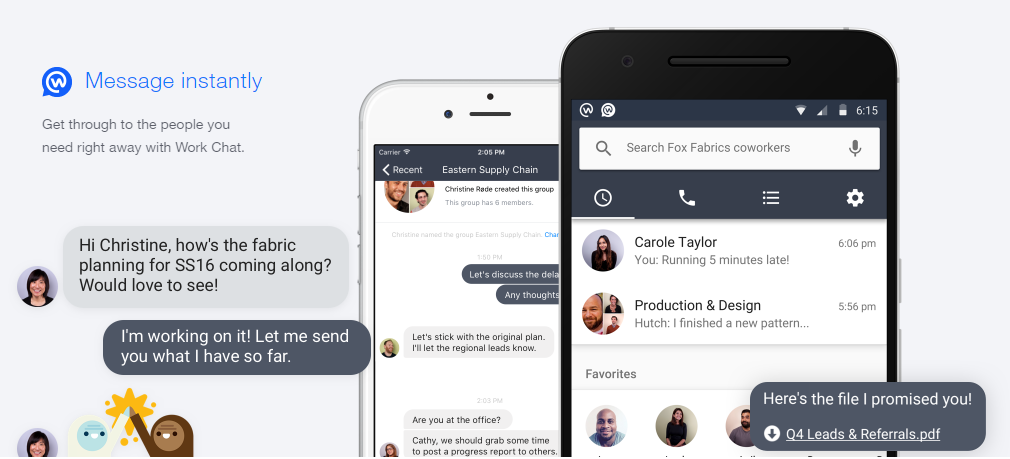 Apps - Workplace has free Android and iOS apps for mobile and tablet devices. Allowing people to be connected wherever they are. This can solve communication and engagement issues for operational employees in factories, on the road and in the field.
Documents and Files - It's not the objective of Workplace to replace any document repository or office tools, however they do offer a solutions to share files, create notes in documents and upload revisioned versions. Additionally Workplace is looking to partner with other companies to create the best office ecosystem, their intergration with Box Inc, a file sharing cloud solution, is the start of this.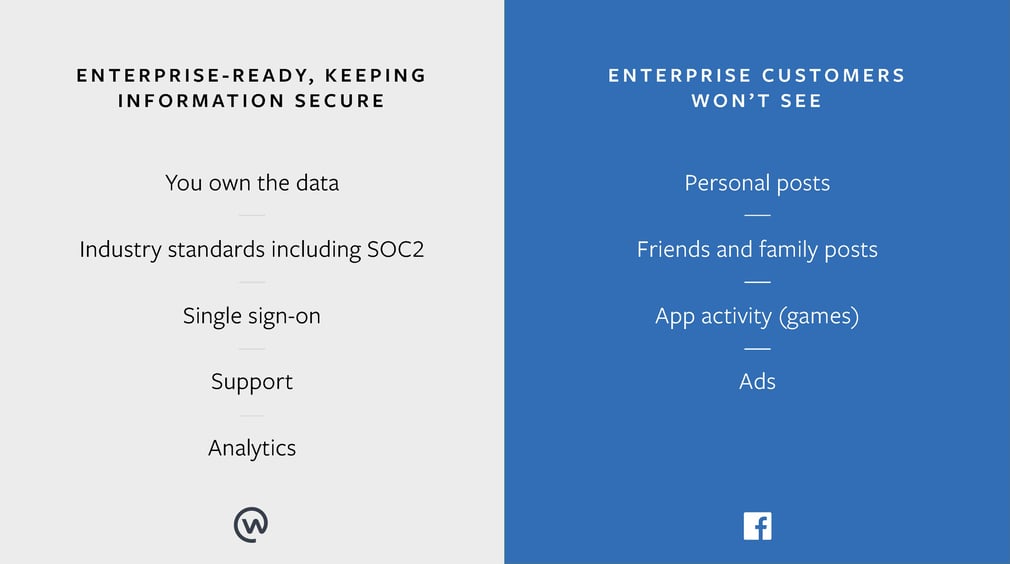 Here are eight takeaways for organizations to consider when launching Workplace:
Start at the end. The end goal, that is. Facebook launched Workplace to solve a specific problem: to unlock the knowledge that is all too often trapped in individual email inboxes.
Influence the influencers. We first trialed Workplace during with our senior Business Unit Managers. This was after aligning IT, Internal Communications, Marketing and our own Digital teams. We then identified highly networked employees and trained them to be our champions for Workplace.
Describe versus prescribe. While we laid out clear intentions and goals for groups, each community has the freedom to use their space in a way that amplifies what they're already doing. The groups set up since launch range from collaboration spaces for account teams to special interest groups who swap everything from local concert tickets to writing tips.
Focus on cultural, not technical, transformation. Since Workplace looks and feels like Facebook, our employees didn't need much technical training. Instead, we focused on priming our culture for adoption in three key ways: we armed community managers and senior leaders with content well before launch; we offered guidance on when to use Workplace versus email; and we kept it up past Day 1, offering repeated, small group demonstrations and coaching.
Your news engine is hungry. Feed it. A restaurant with a sparkling exterior will fail if there's nothing on the menu. Similarly, a platform is only as good as its content. Your internal communications must command attention to cut through the clutter of external news and social chatter. Will employees click on your content or the personality quiz in their external social feed? We developed a pre-launch interactive content strategy for Workplace.
Lead through your leaders. We are experimenting with Live Video as an alternative to webcasts and recently used it to celebrate our a key milestone. Moreover, while it's important for leaders to actively engage on Workplace, but what they don't do sends an equally strong message. We are encouraging managers to move from sharing news via email distribution lists to Workplace, which is an important cultural shift.
Empower teams with local autonomy. Each office has its own unique strategy for Workplace that reflect local market, culture and team dynamics. Locations had the freedom to stage their own launch events, while still tapping into globally available content.
Finally, keep it up. A splashy initial launch will fade once the novelty wears off. Maximizing employee engagement with Workplace requires continuous content planning, leadership engagement, advocacy by internal champions, training refreshers and ongoing change management to reinforce key behaviors.