Okta + Palo Alto Networks
Enable Simple and Secure Access to All Enterprise Resources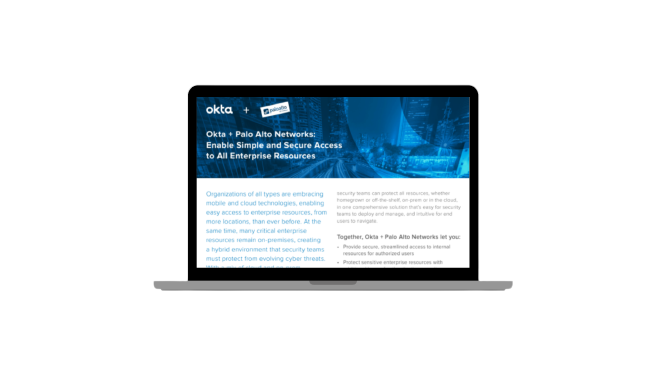 Organisations of all types are embracing mobile and cloud technologies, enabling easy access to enterprise resources, from more locations, than ever before.
At the same time, many critical enterprise resources remain on-premises, creating a hybrid environment that security teams must protect from evolving cyber threats.
With a mix of cloud and on-prem resources, securing the traditional network perimeter is no longer enough. In order to enable these hybrid experiences without compromising on security, organisations need to focus on access–and identity–as the new security control point.
Okta and Palo Alto Networks can:
- Provide secure, streamlined access to internal resources for authorised users
- Protect sensitive enterprise resources with additional layer of authentication security
- Quickly deploy and easily manage a comprehensive security solution
Download this FREE datasheet to learn more about using Okta within your organisation.