BONUS EBOOK: Understanding and Implementing Agile
Asana and Jira—you've probably heard these names if you've searched for a tool to help with project management. But in a head-on battle of Asana vs Jira – which of the two collaborative tools comes out on top?
To answer this, we first need to take a look at what they do.
What is Asana?
Asana is a web-based tool developed to "help everyone track their work." Marketed as project management software, it mostly focuses on streamlining team communication and collaboration, time tracking and task management.
What is Jira?
Jira has always focused on technical developers who need to plan and track their projects using agile project management. It is less intuitive than Asana and mainly targets software developers, teams, and project managers working on software-related products and projects.
But which is better? – Asana or Jira
There are several reasons why Asana is so popular among teams of all size and companies across different industries. For one, it has a cleaner interface and provides a minimalistic UX. Not to mention that its primary goal centres on improving group collaboration through the use of Workspaces, Portfolios, Projects and Tasks.
As a project management tool, Asana is more customisable than Jira as it enables collaboration at every stage of a project. It boasts excellent functionality, including tasks, projects, workspaces, notes, rules, workflows, forms, tags and a dashboard that updates real-time information.
The main goal of Asana is to facilitate smart decision-making throughout a project's workflow. You can organise work into shared projects as lists, and teams can create tasks within those projects for meetings, programs and initiatives. Teams can also be assigned permissions for each member and share project-related documents without having to use email.
BONUS EBOOK: Understanding and Implementing Agile
Why Jira?
Although Jira is also project management software, it was designed specifically for software teams. As such, it mainly focuses on efficiency, continuous releases and customer feedback. Software teams can use Jira to plan, track, release and report on new software or software upgrades. They can also use Jira software to track any issues.
Jira's hardcore agile focus makes it well suited for teams that need specific project management methodologies. In fact, Jira suits the advanced needs of software teams very well.
Jira also relies on scrum boards that enable teams to focus on tasks at hand. Like Asana, it also has kanban boards that give teams insight into tasks, workflow, output, and cycle times.
Additionally, Jira has a built-in portfolio management tool for creating roadmaps for any project. Some features include a real-time visual roadmap, multiple scenario planning, the capability to estimate start and end dates for assignments, resource management, and unlimited hierarchies.
Why Asana?
All in all, Jira is just not intuitive or user-friendly. On the other hand, Asana is a great collaboration and productivity tool for teams across the broader organisation. And with the right integrations, you can expand its features to include time tracking and other productivity customisations.
Asana is a cloud-based solution, which makes its implementation quicker and cheaper than on-premise deployments. It can integrate with thousands of project management and software-as-a-service productivity applications, such as Microsoft Office 365, Dropbox, Google Workspace, Salesforce, Zapier, Slack, Everhour and even works with Jira itself!
Although Jira offers advanced project management features and handles projects of any size, Asana's free plan also appeals to a broader audience. It provides work management and project management for teams with up to 15 members with an intuitive dashboard. Additional features such as advanced search, custom fields, tagging, forms, task dependencies and reporting are available with the upgraded business, premium and enterprise versions.
What also makes Asana very attractive is its use cases across pretty much all areas of an organisation. You don't need to be a software developer to use it. In fact, it should be used by just about every employee in your organisation. Asana is such a powerful tool because it can handle project management and the broader functions of work management that allow you to filter down the organisation's goals and mission to every staff member.
Conclusion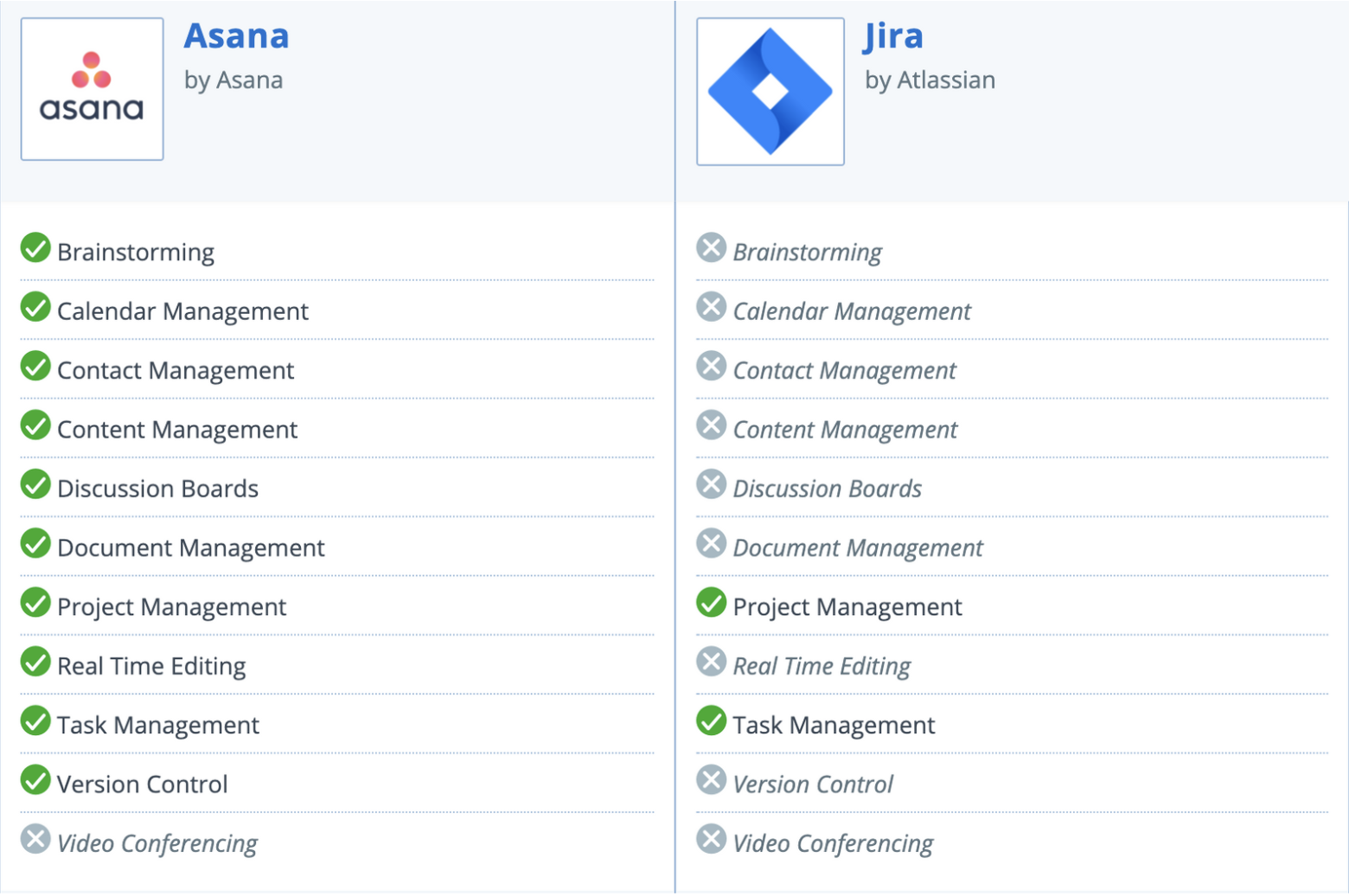 We can't ignore the strengths of each of the two project management tools. The truth is that Asana and Jira are suited for different things and work well for teams with specific priorities and needs. However, suppose you're looking for a platform with a low entry barrier, an intuitive user experience, and plenty of flexibility, customisation, and integration options for use across your whole organisation? In that case, we'd say Asana is worth every penny.