Asana is the weapon of choice for seasoned project managers for a reason. It's flexible, customisable, scalable, and can offer much more than project timelines, team management and real-time project planning.
When we talk about Gantt charts, most people fear they are among the more complex features of project management software, but they don't have to be. Once you get a good idea of the basics, you'll gain a deeper understanding of how to use Gannt charts in Asana.
This overview will show you how to use the Asana Timeline as an alternative to online Gantt chart software.
What is a Gantt Chart?
A Gantt chart is a standard visualisation in project management. It's a horizontal bar chart that illustrates the project timeline, program, or work. It's useful because you can see your project schedule, track milestones, and assess your work timeline. Each bar in a Gantt chart represents a step in the process (or task in the project), and the length of the bar represents the amount of time that step or task will take.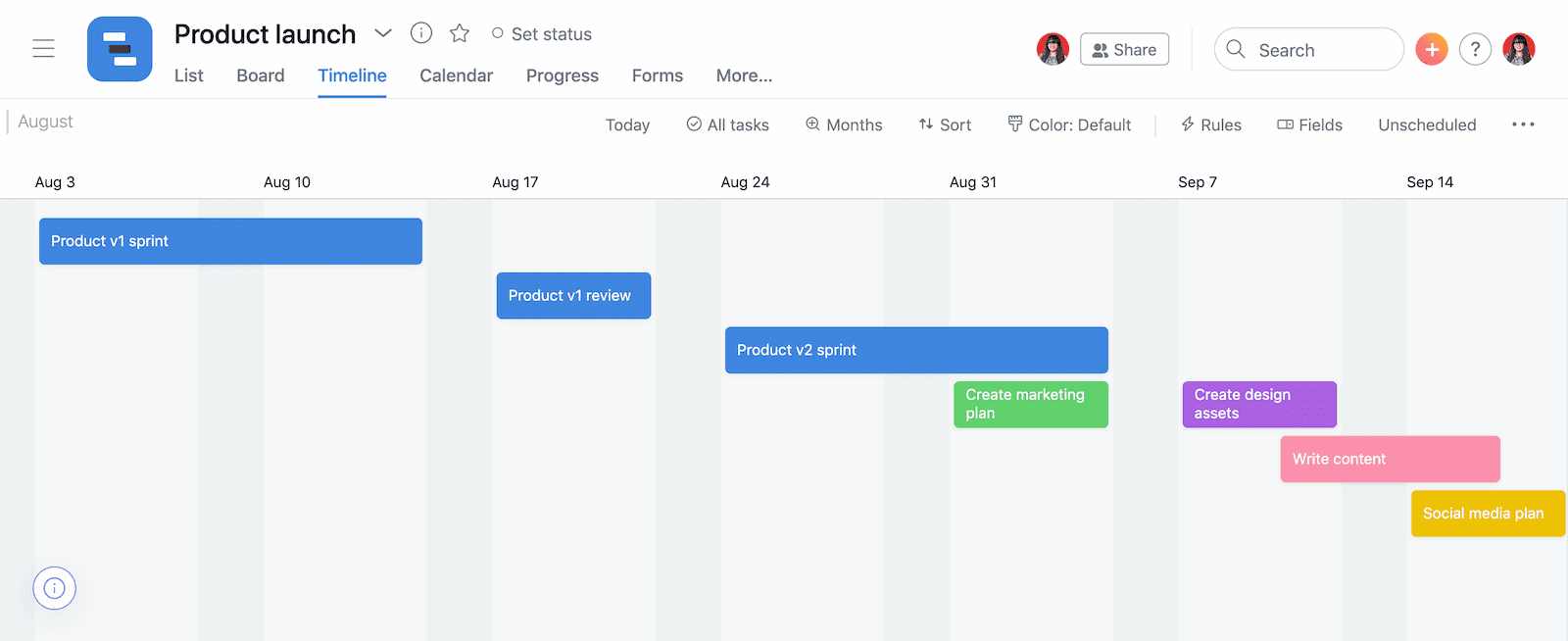 Therefore, team Gantt charts give individuals and project managers an overview of what work needs to get done, who's in charge of it, and when it's due. Add to this task management and task lists within Asana and you've got the perfect planning software.
When do you need to use Gantt Charts?
Employees that need to see their project timeline can significantly benefit from using team Gantt charts. You can also use Gantt chart milestones for specific tasks with start and end dates that hit the project plan's critical stages. The Asana timeline view also displays your tasks as long bars like a bar chart instead of deadline lists.
You can benefit from using online Gantt charts if you are planning:
A marketing campaign
A product launch
An engineering process
An event
A design sprint
Any project with deadlines or milestones.
One of the many reasons project managers use Gantt chart apps is to help visualise a project plan and have a planned schedule of work. These charts are good at showing what work will happen, when, and in what order while creating clarity on any project.
Using Gantt charts for complex projects
Using task dependencies with Asana offers you a way to help organise complex projects. Task dependencies in Asana timeline view are perfect if you're looking at cross-team initiatives or a large, ambitious new project.

In this scenario, a Gantt chart app like Asana will act as your guide. It serves as a map, laying out each step in advance and will help your team members understand where to focus next. It'll also allow you to know the critical path where the potential bottlenecks or delays could occur when you create a project.
Some projects have a lot of project planning involved. Particularly those that coordinate multiple stakeholders. When multiple teammates are working on different parts of a project simultaneously, Gantt charts can provide perspective on all the moving parts at any given moment in time. Gantts will help you see the bigger picture while managing the individual cogs in the system.
Finally, any useful project management tool should factor in estimated timelines and workloads. Gantt charts in Asana Timeline view let you know how much time and person-power you need to allocate resources to and so that you can schedule due dates accordingly. You can also drag and drop the start and end dates of specific tasks.
5 Top tips when using Gantt Charts
If you're new to creating Gantt charts, here are the five most important things you need to do:
Define the time range
Specify tasks' start and end dates
Clarify roles and dependencies
Pinpoint milestones
Update work as plans change
Visualisation is a crucial part of any project management, and the Asana timeline view is a handy new feature for premium members of Asana. The Asana timeline view is essentially a Gantt chart that offers an exact visual and interactive representation of a project and the steps needed to complete it from details about each step, responsible roles and people in charge of all task dependencies. With this view, everyone can see how the project is progressing and what lies ahead.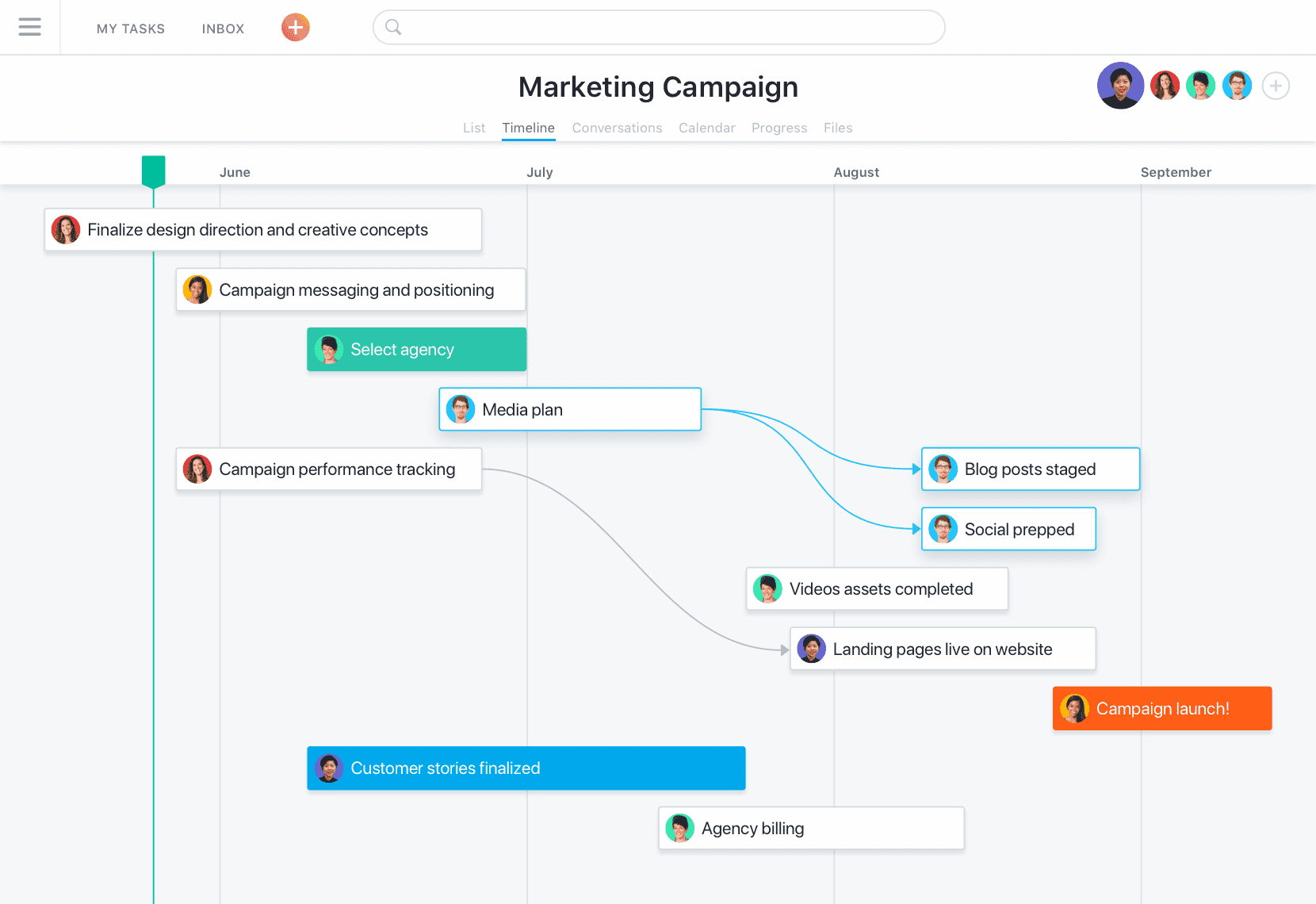 As a project manager, Gantt's provide insight into how all the pieces of your project fit together. Asana can make project management much more straightforward, making a real difference to your project's long-term success and your team's productivity.
If you'd like to try building your own Gantt charts then please submit the form below and we'll set you up with a 30-day trial of Asana Enterprise.