The workforce is the greatest asset of any company and Human Resources is essential to the success of any business. A HR department has to find the best hires, develop and retain talent, and keep the entire company informed about regulatory changes. All of these duties have one thing in common: Effective communication is mandatory.
The inability to speak to every team and each team member serves as a common impediment to its human resources ecosystem.
There's a simple solution to all of this, and it involves the ability to speak to anyone, anywhere, at any time, through any device. I'm talking about video communication.
Looking for a Zoom Managed Webinar Service?

RELATED
Workplace and Zoom: Designing an Agile Employee Experience
London's Met Police Using Zoom
Acquiring and retaining talented employees is becoming increasingly more difficult, so after speaking with a number of Zoom users within the HR departments, here are my top 10 reasons why HR professionals love using Zoom:
1. Broaden your talent pool
In a world where remote working is getting more popular, it's time to take a hard look at the traditional business model of having all workers present in the office. Maybe the best person to lead your sales team doesn't live in the same part of the country. Video conferencing expands your pool of potential talent from thousands or millions of people to billions.
Having that kind of reach – combined with the ability to offer any potential candidate the possibility of having a job from home – significantly increases your chances of finding the most talented individuals.
In an era where you can communicate with someone 2,000 miles away face-to-face with such a clarity, and you can use a host of project management and file sharing services, the world has now become your talent pool.
2. Video interviews give flexibility
You can send a link to your instant meeting via any means you like or you can start a one-click meeting via Zoom chat. Scheduling meetings becomes less of a logistical nightmare when your attendees can just click to join.
In addition to instant gratification, meeting from home can be easier on your job candidates. They no longer have to travel to you just for the long-shot of getting the job. They can be in a comfortable, familiar location.
By meeting through video, you also get the added benefit of reducing the costs of both the company and interviewee. And a higher chance of smooth interviews reduces the amount of time that it takes to find the right person for the job. By using video interview solutions you can improve the hiring process because they are convenient, flexible, and efficient.
3. Internal communication is simpler
Zoom's Video Webinars can make large-scale training a breeze, but there is so much more to it. After big training sessions, you can use Zoom's meeting platform to divide people into groups via Video Breakout Rooms to work on team-building exercises and other projects.
From what we know about the Future of Work, email is quickly being pushed out the enterprise market and replaced by instant messaging (just like it did in the consumer market). Zoom has a Chat function which is accessible via your browser or mobile/desktop app.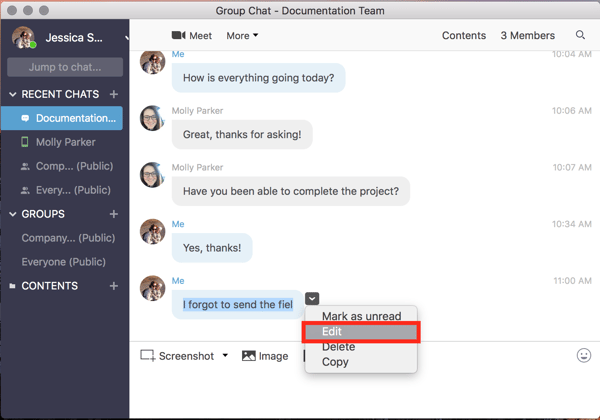 4. Share information quickly and easily
HR departments have to keep the organisation up-to-date on industry standards and regulations, reducing the chances that compliance issues will slow things to a halt.
Ensuring that everyone "gets the memo," the best way to communicate new information company-wide is to establish a webinar. Those who attend live can ask questions and participate via Q/A and polling. Those who can't make it can have access to a recording with which they can review all of the questions asked and replay it as many times as they wish.
No one misses out on anything.
5. Retain your best employees
A Deloitte survey (sponsored by Facebook) asked C-suite executives for their perspectives on the future of work. Their responses reveal six themes about the future workplace—and six lessons to help leaders ease the transition.
One of their lessons was that "businesses should be proactive in improving transparency in communications, adopting more collaborative systems and reinterpreting corporate culture around digital workplace; or they risk losing productivity, employees and potentially, customers".
By 2020, Millennials will constitute for 50% of the workforce. This is particularly important given only a third of Millennials feel their company has appropriate digital tools to be efficient, and 66% expect to leave their employer in less than five years.
6. Strengthen diverse teams
If good results come from good talent, then try to imagine those results if a talented group takes a project head-on with a sense of camaraderie.
That can be difficult difficult if you're managing a focused team composed of individuals from different corners of the world, but with video communication you can build the cohesion.
Meeting face-to-face with colleagues makes a significant difference. It positively impacts the group dynamic and allows for more fluid communication. Getting video into the mix might just be the magic wand you need to increase productivity among remote teams.
7. Onboarding and training new employees
In theory, an enterprise training software solution is the ideal way to approach employee training. However, you end up with a sluggish interface that experiences technical difficulties either due to human error or an inability for the software to perform its intended function, and you end up having to train them to use the very system on which they're training.
Isn't that kind of counter-productive?
Zoom is so easy to use, that I can say with confidence that it should now be an important part of every company's training suite. Here's why:
Intuitive group messaging - g

roup messaging has always been an important part of many companies' training practice.

During the chat, you can invite all of the contacts into a Zoom meeting. Zoom knows HR teams are generally concerned about privacy, so they've added a bevy of

features

to help: meeting password protection, prevent recording, participant on-hold, and more.


A bug-less experience - Updating applications is a hit-and-miss process. You either reap the benefits of its new features or you end up frustrated with the bugs this upgrade introduced. Bugs have a significantly detrimental effect on the functioning of day-to-day business, and you really don't have any way of knowing when a bug will be fixed.

Zoom ensures that you'll have as bug-less an experience as possible. Their engineers are very quick to respond to any customer reports. They are actively on the lookout for bugs.


Screen sharing is better - on iOS, you can now host a screen sharing meeting just like you would on PC and Mac platforms. All participants will see you using the apps you're presenting, making it ideal for teaching people how to use the enterprise mobile solutions that they'll need to get work done.

When an employee shares his/her screen with you, you may also ask that person to hand over control of their mouse and keyboard. Previously, you would have had to tell the person to do this manually, which may have led to a little bit of confusion to someone not accustomed to using Zoom's screen sharing feature. This will now allow you to directly support a person having trouble using your company's own software at a faster pace.

You and your new hires can also co-annotate a document. So if you're showing them a new feature, they can now, for example point an arrow or draw a circle, around a point on the screen that is confusing them.


Bandwidth limitations aren't an issue - If you're suffering from bandwidth limitations, Zoom will modify its transmission to ensure that you're able to have as smooth a training session as possible. Where other applications will begin to act sluggishly and take three seconds to load a single frame, Zoom does everything in its power to ensure that you're not experiencing any delay in presentation simply because the next slide won't load on participants' screens, even if it has to resort to cutting down slightly on the resolution.


This smart way of adjusting the video will also mitigate issues that employees may have on their end when they're accessing your VPN remotely.
8. Using Zoom externally
HR professionals love Zoom because it often reconnects disconcerted employees, teams and companies - it's a great internal tool! But what if I told you that's only half of it?
The HR professionals I spoke to said they also love using Zoom externally, whether it's with a partner, supplier or candidate.
After speaking with the HR departments, I had a chat with a couple of people from the commercial and procurement teams, and found that companies are adopting Zoom externally, just as much as they are adopting Zoom internally.
I guess first impressions count? If you're having an initial kick-off call with a prospect, client or supplier then you need your video conferencing software to be quick, clear and easy to use (or CEO-proof).