Deploying new technology across your organisation is tough, especially a tool that is built for every single employee to use. That's why we have a sophisticated service built around helping companies to adopt and engage Workplace by Facebook.
Here are a few tips for new users who have just joined Workplace.
Stay Informed and Be Productive
Once you have set up your personal profile i.e. name, phone number, email, location, position, manager etc., you should join all company and team groups that are most relevant to you; make sure you don't join ALL groups with your company - you should carefully consider each group as to whether your membership is required, otherwise these non-essential groups will bury the important information in your newsfeed.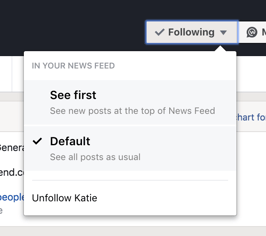 Pro-tip: when you're joining relevant groups, you can follow your managers, group admins or other colleagues and prioritise their activity to the top of your newsfeed.
Stay in the loop by personalising your group notification settings. you can choose which group sends you information and which device you receive it on.
This flexibility is great for the amount of groups you can eventually become a part of. I filter notifications based on priority by device; so I'll receive browser notifications for all activity and emails for important updates.
RELATED GUIDES
- Using Workplace to Enhance L&D
- Running an Executive Live Stream
- Using Workplace as Your Hosted Company Intranet

Strengthen Your Work Relationships
Engage with colleagues you couldn't have previously connected with. Workplace enables co-workers to chat in real-time, regardless of geography or sector. All employees can now benefit from the expertise and strengths of others, across offices and regions.
Pro tip: visit a colleague's profile to learn more about their role in your organisation e.g. their job title, manager(s), department and contacts details.
Understand the Tool's Functions to be as Efficient as Possible
As a new user you should quickly familiarise yourself with the tool, this will make you quicker at performing regular tasks that uses the same functions, but you will also discover the smaller functions that will make you really utilise Workplace.
Here are a few insider tips:
"Save" the posts that interest you most. Click on the arrow on the right side of the post and selecting "save post."
Use "@" to tag your coworkers on your posts or in comments. They'll be notified instantly to respond to your questions or remarks.
Publish directly in groups so that the right audience sees your post.
When you create a group, "pin" the group description and purpose. It'll be the first thing that everybody reads when they visit your group.
Share your Thoughts and Findings
Share industry trends and thought leadership by posting notes or shared articles in relevant groups. Knowledge sharing will spark conversation and ideas.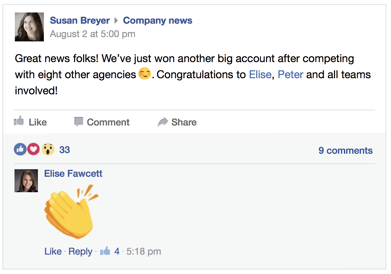 Managers - give recognition to outstanding employees and celebrate team success by posting, commenting, liking or even using the visual aids available, like stickers, emojis and giffs.
Pro tip: create a secret 1:1 group with your manager to discuss personal performance, objectives and development.
Plan and Coordinate Team Projects
Workplace by Facebook is built around enterprise collaboration, so managing team projects will easier and more transparent. Upload documents quickly, gather feedback instantly and brainstorm together. Language knows no barriers on Workplace: automatic translation helps you interact with coworkers from all over the world.
You can also create polls to get instant feedback on a decision you need to make quickly.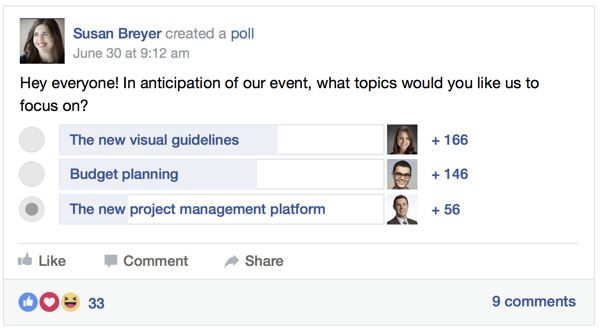 Brush-up on Training
Finally, if Workplace has been implemented and adopted correctly, you should be able to catch up on any training you've missed, by absorbing the content published by your manager, HR or L&D team.