Workplace by Facebook is an enterprise social networking tool, built to enhance communication, productivity and engagement in the workplace. It has the capacity to replace your current intranet and internal comms channels, but can also work alongside and integrate with many best of breed software applications.
Workplace by Facebook is a completely separate platform to Facebook - accounts, groups and pages on Facebook are not linked in any way to Workplace.
RELATED POSTS
Transitioning to the Future of Work with Workplace by Facebook
Workplace by Facebook Announces New Integration Directory

Using Workplace by Facebook as your company intranet
Since it's launch back in 2016, many charities and non-profit organisations including Oxfam, Save the Children and the RNIB have adopted Workplace to boost collaboration and comms among their staff.
Clive Gardiner, group head of digital and content at the RNIB, says: "For the first time, all RNIB employees can collaborate, participate and share ideas. We've never had this level of flexibility and accessibility for our blind and partially sighted staff. Workplace has unified different parts of the organisation, cutting through hierarchy."
Like any purchase decision within an organisation, the product has to fix a problem or enhance your current solution, and I believe every Workplace feature solves a real-life problem that workers and organisations face every day.
Here are my top 6 reasons why non-profits are adopting Workplace by Facebook.
1. Familiarity
The benefit of Workplace being a Facebook product (although not associated in any way) is that it's adopted Facebook's heavily tested and refined user interface. Most people are familiar with Facebook and how to navigate the platform, so it makes adoption and engagement that little bit easier.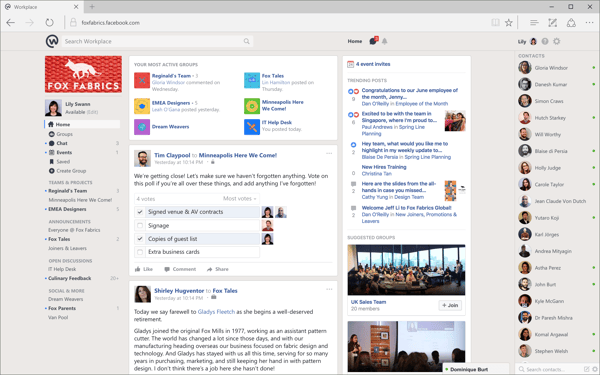 "The fact that the platform is heavily based on 'normal' Facebook made the barriers to adoption much lower than other similar tools," she says. "Most of the help queries we receive focus on the best way to get the most out of this kind of tool, not on the basics of its operation" - Dianna Langley, digital workplace manager at Oxfam.
2. #BetterTogether
Workplace has recently launched an Integration Directory which hosts 50 new integrations - and growing!
Along with this announcement came the strategy behind it. Workplace's vision is to unlock human potential by giving the world a place to work together. They'll do this by connecting Workplace with the tools and services people value, taking common workflows and making them dramatically easier and simpler, mobile-focused and secure.
As a charity you probably work with different software to get work done. Workplace's integrations include many best of breed applications used by charities, including Salesforce, Box, Dropbox, Smartsheet, SurveyMonkey, Google Drive, ADP and a lot more.
3. Language translation & personalisation
It's common that charities are based all over the world, Workplace has recognised this and has included a language translation feature that lets you connect with anyone in your organisation.
Too often, great ideas and critical solutions don't travel because teams simply can't talk to each other effectively.
The absence of an open communication platform means there is very little exposure to what colleagues and volunteers are doing, therefore limits the opportunity to feedback.

This sadly creates a big divide between office based teams and field based teams.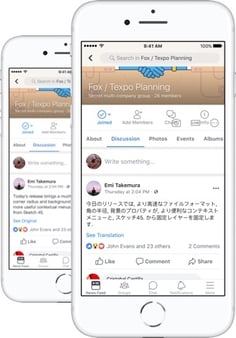 Auto-translate makes global communication easy. When News Feed sees a post in a different language, it will offer to translate it there and then. No extra steps and no time wasted.
For Save the Children, one of the best features is the language translation tool. Nicci Gregg, global digital strategy manager at Save the Children, says: "One of the main benefits we have seen in just three weeks is how people around the world are now able to connect much more easily. The translation feature has been amazing for us and it is humanising colleagues with profile pictures and personal profiles instead of a name at the end of an email".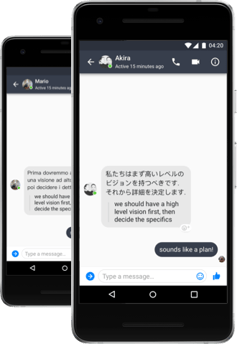 Gregg continues, "for Save the Children, this is so important: we have employees all over the world, speaking different languages and working in field offices with different levels of connectivity. Workplace and its high-performing mobile app has created new networks and connections on an impressive scale. In addition, our leadership team has been able to connect with staff on a new social level and staff have taken very well to this".
4. Sharing ideas
Workplace is great place to share ideas and updates to colleagues, volunteers, managers as well as other organisations. Workplace has introduced a feature that let's you collaborate with other people outside of your organisation, so managing projects is easy.
"Workplace Is all about groups. Once users learn what groups are and how to use them, they become amazing for networking and hosting conversations. It's just what we wanted: a place to share knowledge. Groups provide a discussion space for our employees and create openness and transparency across our ways of working" - Nicci Gregg, global digital strategy manager at Save the Children.
5. No limitations
Workplace goes beyond the day job and office walls, it's a platform built to be as flexible as you want. Workplace offers a mobile app on Android and iOS, as well as a useful chat app available on mobile and desktop (Android, iOS, Windows and Mac).
You can stay connected to a person or issue easily with Workplace's cloud-based, user friendly platform.
6. Cost
If they reasons above haven't yet persuaded you that Workplace is an ideal platform to centralise communication - Workplace by Facebook is completely free for verified non-profit organisations!