An updated Blog on Flow 2019 can be found here.
Yesterday, Workplace by Facebook held their first annual global leadership summit in Menlo Park, California. They brought together C-level leaders, entrepreneurs, and inspiring authors to explore winning strategies to help people become more engaged, focused, productive, and connected to their organisation's purpose.
If you're unfamiliar with Workplace, it's a communications and collaboration platform tailored to the enterprise market, with over 30,000 paying customers. Julien Codorniou, VP at Workplace describes Workplace as "Facebook's first SaaS startup".
RELATED
Workplace and Trello: A New Way to Collaborate
Why Safety and Compliance Teams Love Using Workplace by Facebook
Workplace and Zoom: Designing an Agile Employee Experience
Together with customers and partners, Workplace announced some big product announcements and impressive feature updates to connect distributed workforces, provide cutting-edge mobile technology, and offer integrated communications products and services for companies and their employees around the world, whether in the C-suite or on the front lines.
Safety Check for Workplace
Making work communities better prepared in a crisis by allowing employers to locate their people and provide assistance quickly.
In 2014, Facebook launched Safety Check, a simple and easy way to let friends and family know you're safe in a crisis, and check on others in the affected area. In the last four years, millions of people have used Safety Check to provide peace of mind to loved ones.
Yesterday, Workplace announced Safety Check for Workplace, a mobile-first way for organisations to find and help their people in a crisis.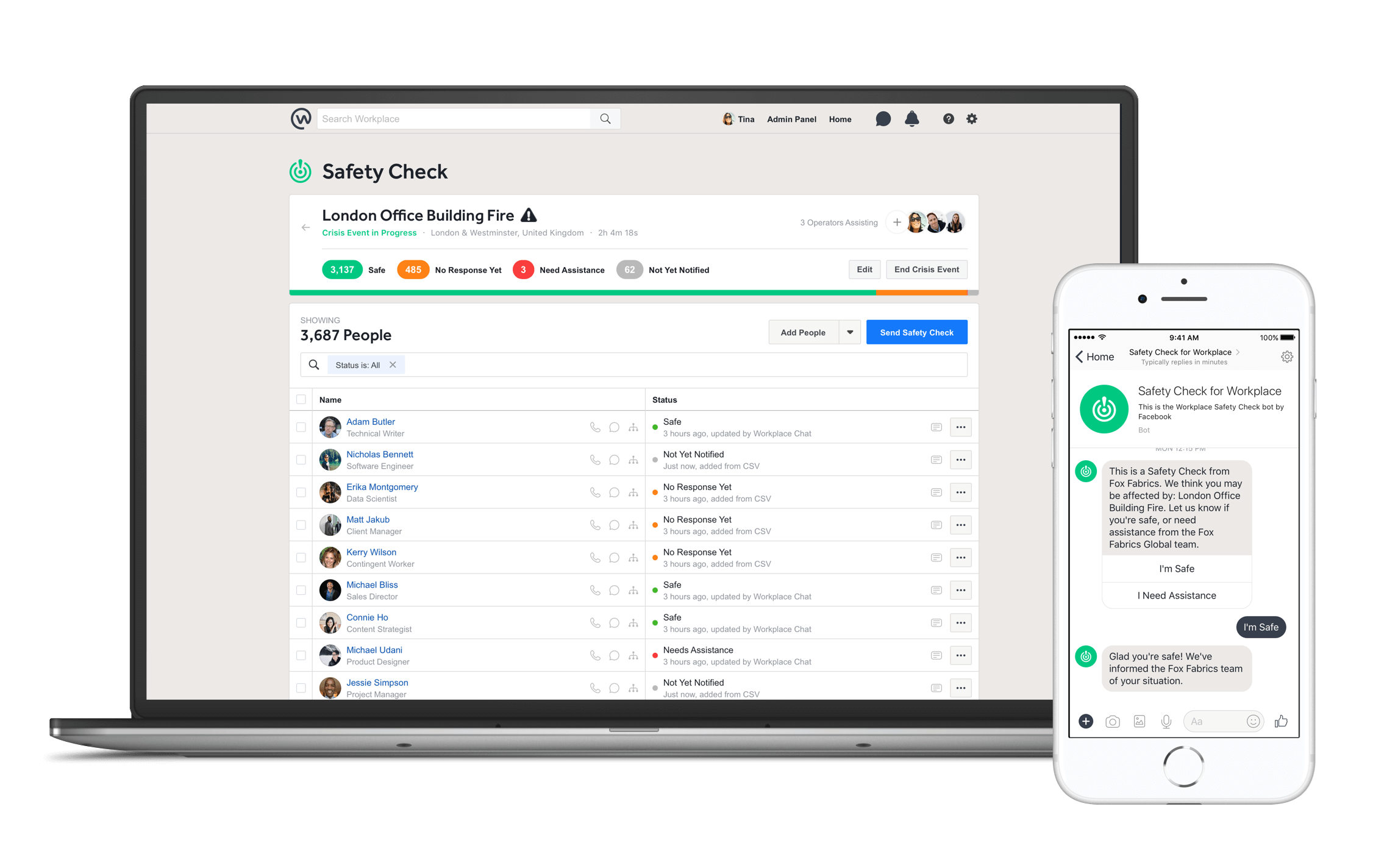 With Safety Check, if a crisis arises, organisations can identify who may be affected, send multiple modes of notification, and monitor employee responses.
How does it work?
In a crisis, company leadership – through their Workplace administrator – will be able to activate Safety Check and send notifications to their work community to confirm who is safe and who needs help. There are three steps to the process:
1. Locate: It's critical to identify who may be affected by a crisis. So Workplace has built multiple ways for companies to import the data of employees they may want to reach.

These include membership of Workplace groups (for instance, a local FYI group in a city facing a crisis); location information contained in Workplace's own Org Tool; or a traditional spreadsheet with a list of names.

2. Notify: Once you've identified the relevant people, you need different ways to get in touch with them. Data shows that the most effective way to reach people is via a Workplace Chat Bot.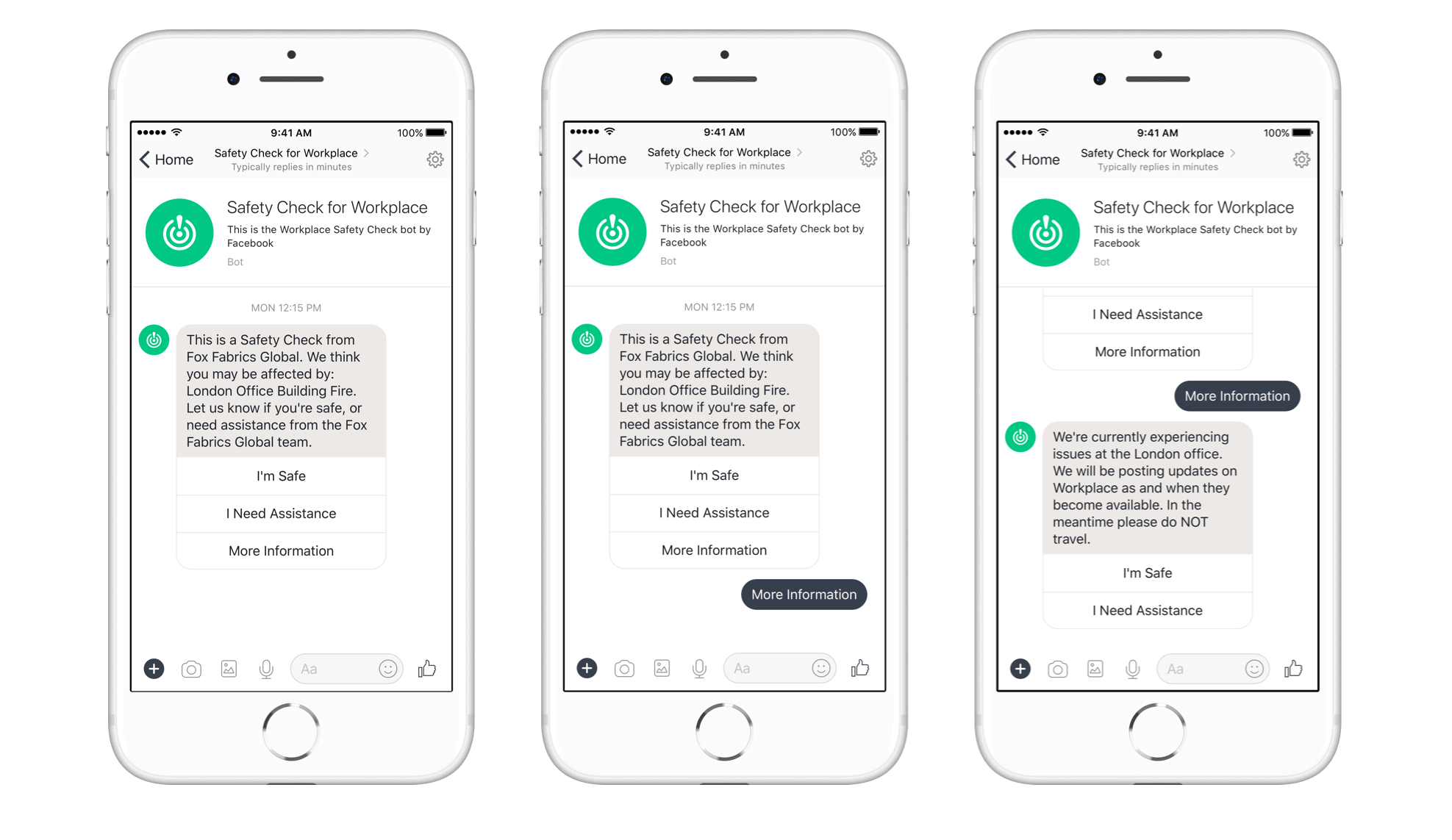 But because not every organisation has this functionality, Workplace has provided out-of-the-box options including Workplace Chat notifications and automatic messages.
These appear at the top of the News Feed in Workplace alongside email and, eventually, SMS. All of these will be available on both desktop and mobile.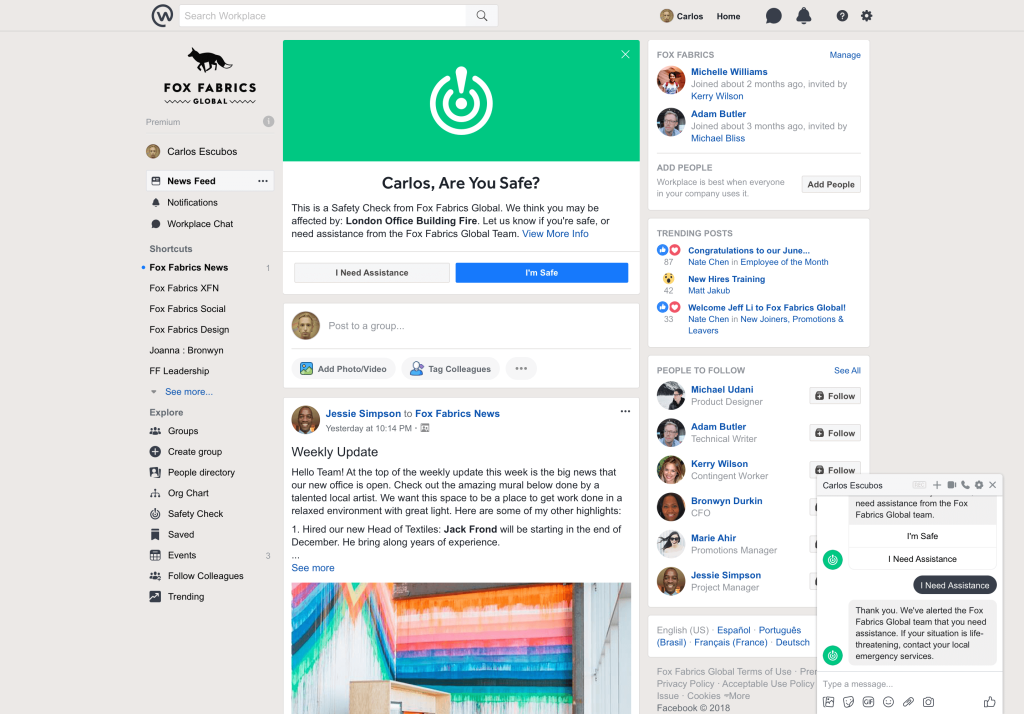 3. Iterate: What if you reach someone but they don't respond? You have to be able to keep trying. That's why Workplace has built a real-time dashboard of employee statuses showing the history of attempts to contact someone.
Admins will also have the ability to view the employee's contact details alongside information on their immediate manager and teammates.
Safety Check for Workplace will be available in early 2019. To request early access to Safety Check register here.
Do not disturb
Turn off notifications in Workplace and Workplace Chat to let colleagues know when you're not available.
Workplace have heard feedback from customers that there are times when working most effectively means switching off other distractions and focussing on tasks without interruption.
Starting today, anyone can activate their Do Not Disturb status in Workplace and Workplace Chat. Simply turn off notifications across mobile and desktop at the touch of a button to maintain your Flow, finish that slide, or just take a break.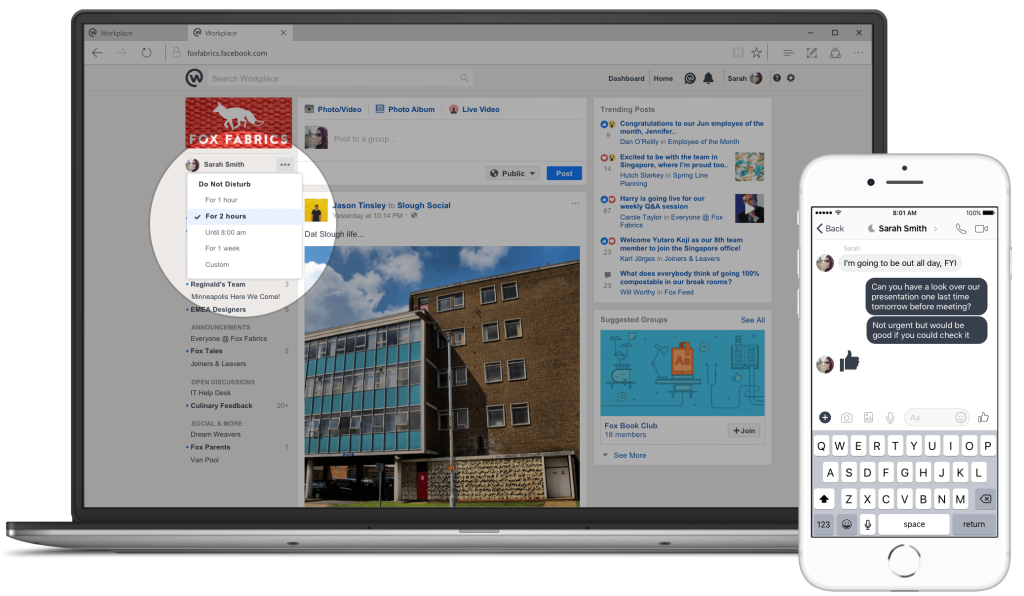 Mark as important
Make sure high-signal posts reach their intended audience with new notifications and engagement metrics.
As organisations grow, it becomes more difficult to make sure everyone has access to important updates and announcements.
That's why wWorkplace has launched the Mark as Important feature. Rolling out to all customers over the next few weeks, group posts can now be marked as important when their message is high signal.
These posts will show up at the top of the News Feed for every member of the group. Workplace will also send email and push notifications, and deliver a simple report to show the post's engagement metrics.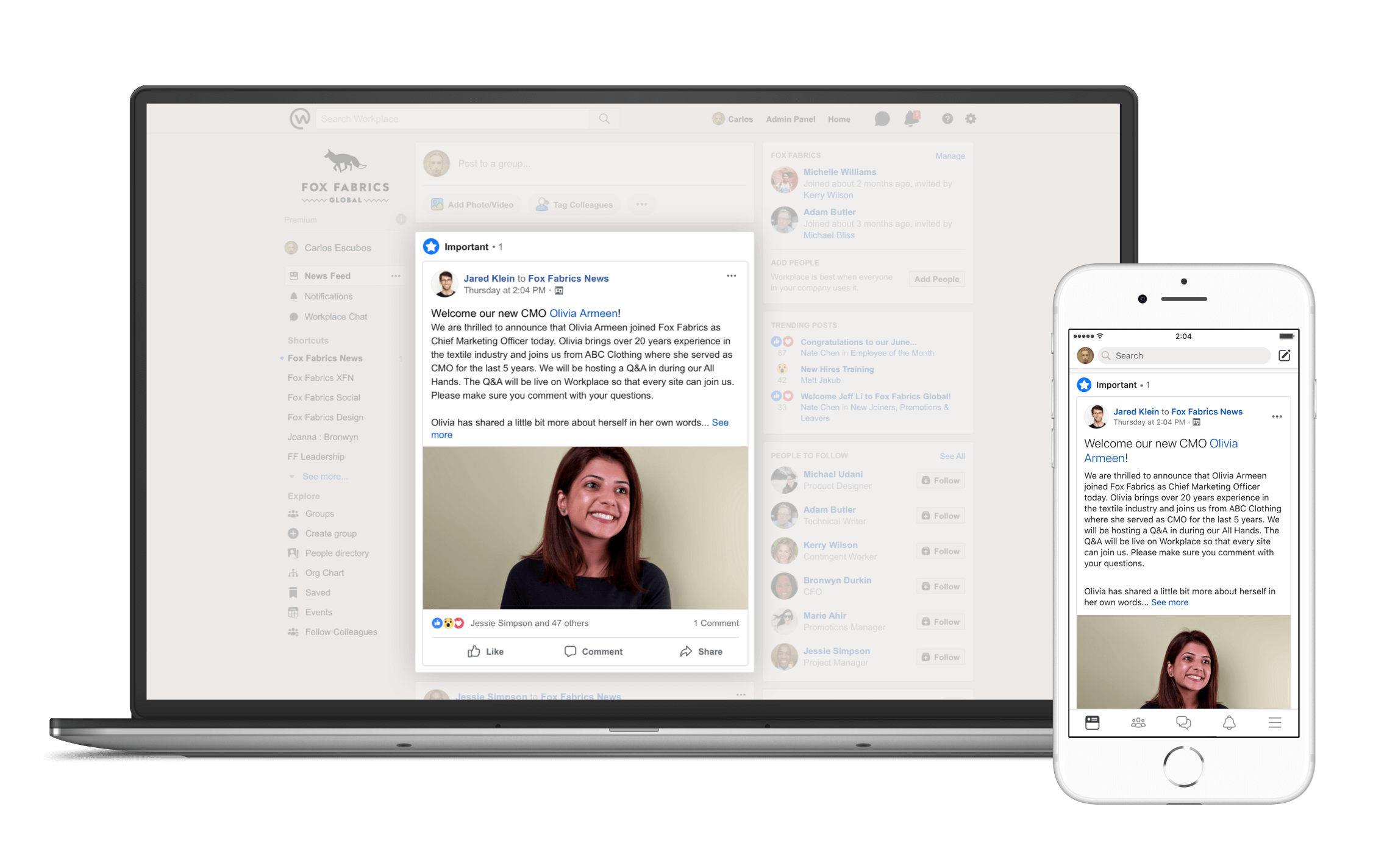 Multi-company chat
Instant messaging and video conferencing to connect with people outside your organisation.
For many companies, enabling great teamwork isn't just about supporting collaboration between their own employees. Being able to communicate and get work done efficiently with partners, vendors, suppliers, or agencies outside of their organisation is just as important.
Workplace already enabled this collaboration through multi-company groups. Now Workplace is starting to roll out the ability for people who are in multi-company groups to work together using Workplace Chat.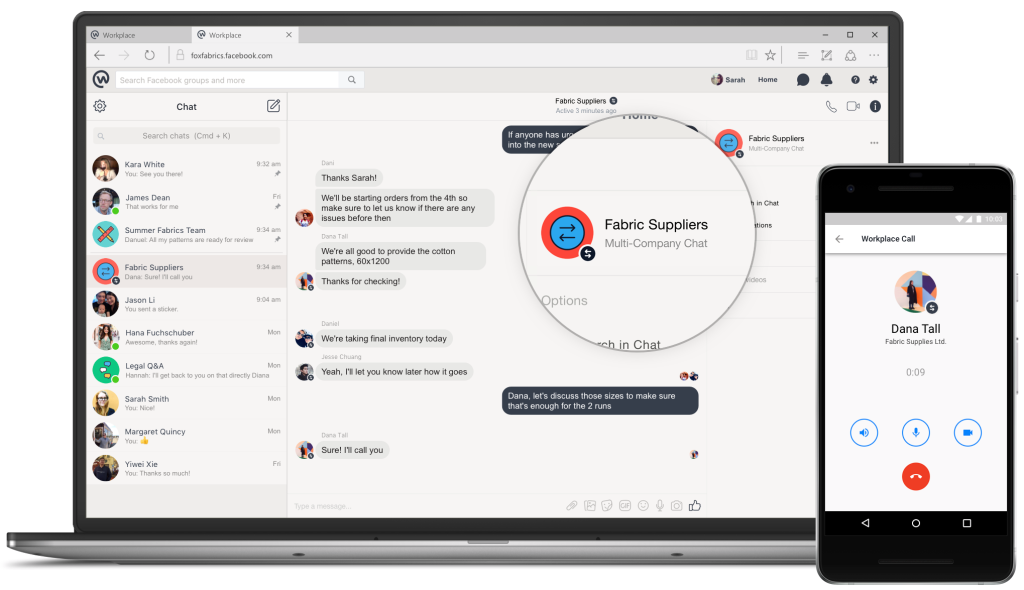 Multi-company chat for multi-company groups will allow individuals from different organisations to send each other messages or hold video calls in Workplace Chat, as long as both organisations are on Workplace and both users are in the same multi-company group.
Pinned threads
Workplace believes that instant messaging should be at the heart of the modern workplace.
But as messaging grows in importance, we need new tools to make sure it meets people's needs. That includes ways to quickly surface your most important conversations or colleagues.
Pinned threads will help people keep on top of fast-moving conversations, or quickly engage their closest colleagues in new discussions.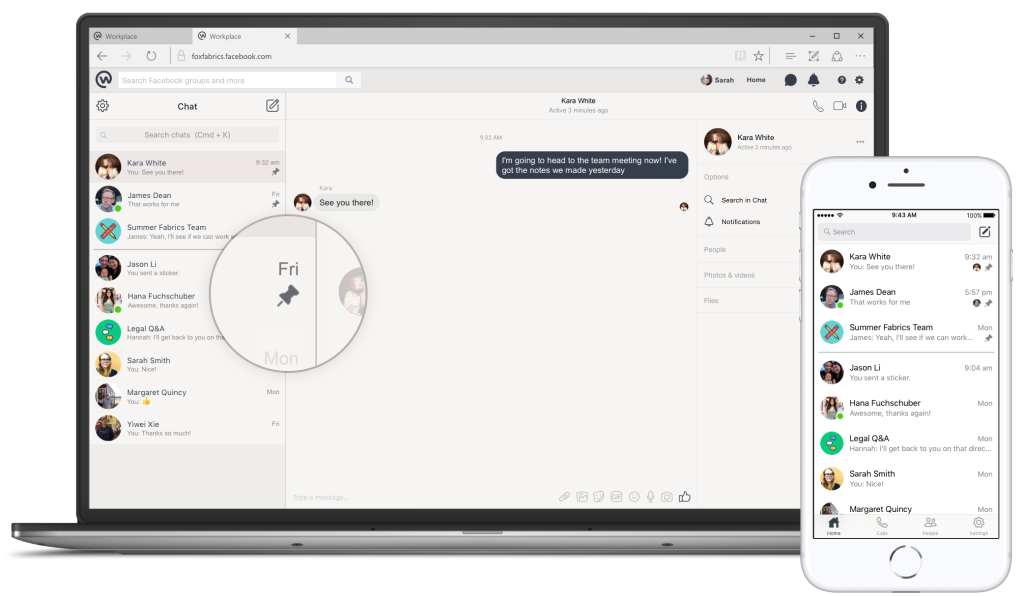 By pinning threads to the top of your their, people can now easily dip in and out of conversations without losing context. It will also minimise the time they spend searching their contacts – speeding up decision making and driving productivity gains.
Users will be able to pin and unpin up to fifteen threads, which will appear as a list at the top of Workplace Chat.
Replies
What do you do if you want to revisit a previous point in a message but the rest of the thread has already moved on?
Workplace has announced a new Replies feature which will reduce that confusion by allowing people to reply to specific messages in a quick, lightweight manner, specifying exactly to which part of the message they are replying to.
It will give people more freedom to discuss several topics within a message without creating a new thread.