Working in safety or compliance for a large organisation in 2018 can be a tough job. You have technological and logistical barriers to overcome to ensure the right processes are executed properly, and the transparency of safety workflows seem to weaken as your company grows.
And it's only going to get worse, unless you consider new ways of woking.
RELATED POSTS
8 Reasons Why HR Professionals Love Using Zoom
Connect a Remote Team with Workplace and Zoom
Connect the Disconnected with the Latest Workplace Update
The future of work is an exciting concept, but to safety officers and compliance managers it can be quite daunting - a workforce which is becoming increasingly more mobile and no longer bound together by office walls.
How can you maintain and even improve the level of compliance with a fragmented workforce?
With Workplace by Facebook - a rapidly-evolving communication and collaboration platform that is seeing huge adoption rates, especially among the safety and compliance departments.
CONSOLIS - a the leading precast concrete solution provider in Europe has adopted Workplace to optimise safety compliance and other strategic business processes.
In an effort to create and maintain an organised, clean, secure, and efficient work space and environment, CONSOLIS applied the 5S methodology throughout its global network of hundreds of factories in 28 countries. 5S is one of the most practiced tools of Lean Manufacturing.
Spearheaded by their VP of Operations, CONSOLIS has started a "Clean Floor" initiative as part of the 5S methodology. They use dedicated Workplace groups, polls and other Workplace features to ensure compliance with this initiative across its global network of plants, sites and offices.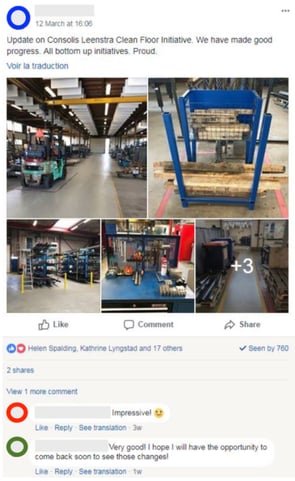 In using this groups-based process, CONSOLIS has seen improved accountability and sharing of best practices across the sites.
They have also seen some amazing unforeseen side-effects of adopting Workplace, in that senior leadership can now recognise and appreciate the desk-less workers who complete these site reviews, an interaction not possible before Workplace.
Although CONSOLIS has seen a brilliant return since using groups, polls and other Workplace features, they haven't stopped there... They have automated safety reporting with a Workplace Chat bot using Workplace's API-first capabilities.
In order to stay apprised of and act on all safety incidents on its hundreds of sites located in 28 countries, CONSOLIS used to send weekly PDF recaps via email each Friday to a dedicated distribution list. The lack of visibility and inability to easily track progress on action items made this email-based process less than ideal.
They have now moved this workflow to Workplace and have developed a 'SafetyReport' bot which automates the end-to-end process for reporting incidents/site-issues using Workplace chat. Anyone can share an incident!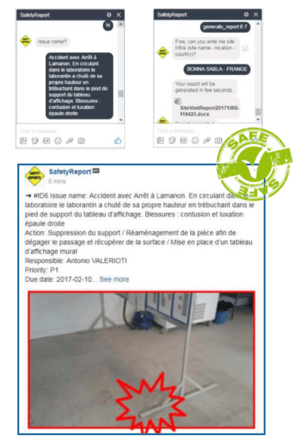 It then logs this incident as a post in a dedicated group with a target date and the responsible individual for that site is required to act on this incident by the mentioned date.
Bots are a fantastic way to unite your remote workforce and enforce critical processes. Companies like Hive and Bel Group use the Safety Officer bot (available in the Workplace integration directory) so employees can quickly respond to alerts with 1-click status confirmation and location tracking.
Their crisis management team can run reports to view status updates in real-time.
According to Adrian Heesom, COO at Hive, the business used Safety Officer during Hurricane Harvey to send corporate safety alerts to targeted teams on Workplace, effortlessly messaging groups, offices and regions within minutes. Team members were able to respond quickly to alerts via Work Chat. Using opt-in technology, Hive was able to locate and visualise each employee location during the emergency situation.
Here are my 5 steps you can take to improve safety and compliance in your business:
Sign up for a free trial of Workplace to completely understand its value.
Once you have Workplace, Create 'groups' dedicated to compliance with strategic business processes. For example, create a group whose purpose is to ensure compliance with security, safety, or any other critical business processes on which you wish to ensure compliance.
Explore Workplace chatbots and how they could enhance your current process.

Create an exciting communication plan to announce the launch of this bot and a simple how-to video showing employees how to interact with it

Carry out periodic drills to make sure both, admins and people, know how to use it during an emergency.