Earlier this week the modern enterprise video communications service, Zoom was named a leader in Gartner's Magic Quadrant for Meeting Solutions. This is the fourth time Zoom has been positioned in this Gartner Magic Quadrant and its third time as a Leader!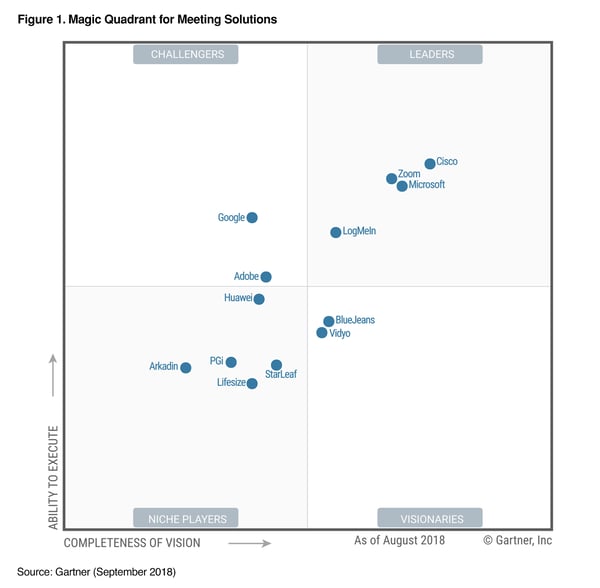 RELATED POSTS
Connect a Remote Team with Workplace and Zoom
8 Reasons Why HR Professionals Love Using Zoom
Met Police Use Zoom Managed Webinar Service
Gartner evaluated 13 meeting solutions vendors for 2018, assessing each on both abilities to execute and completeness of vision.
This year Zoom has continued its incredible growth and has achieved significant market share relative to their competitors. Zoom now has 13 global data centres, as well as a presence in the US, UK, France, Australia, China, Japan, and elsewhere.
Zoom has also had growing adoption in large enterprises with companies like Walmart and Delta Air Lines switching to Zoom for video communications.
This news comes about six months after Zoom announced that it received the overall highest customer rating in the Gartner Peer Insights 'Voice of the Customer': Meeting Solutions Market.
The report notes that, within it, "Contributors share their first-hand experience of vendors and products through the various stages of the IT lifecycle, from evaluation through deployment." As of today (13th Sept. 2018), Zoom has an Overall Rating of 4.7 out of 5 stars for the Meetings Solutions market based on 2434 reviews and has the highest overall rating in its category among vendors with more than 11 reviews.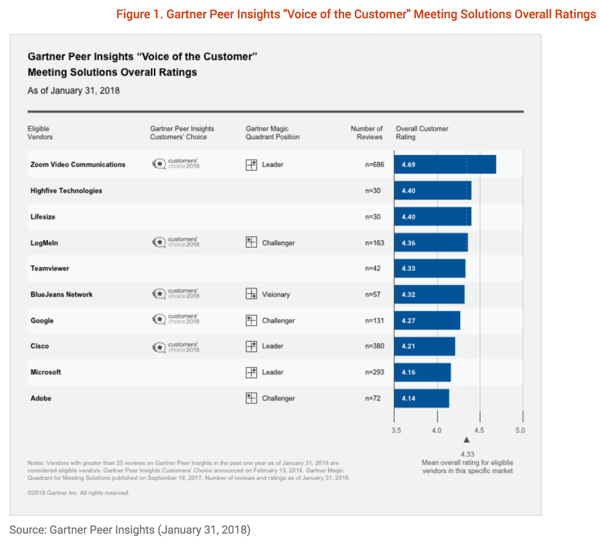 And it's only going to get better!
As I've mentioned previously in this article, Zoom has been named a leader in Gartner's Magic Quadrant for a 3rd consecutive year! They're continually climbing the leaderboard because they focus on what the customer wants.
Zoom is a future-friendly platform that enables workers to be as flexible as they want. As well as improving core functionality, Zoom are also building integrations with other disruptive SaaS platforms to help build a workplace fit for the Future of Work.
In fact, Zoom has just released a chatbot for Workplace by Facebook that allows users to seamlessly switch between their video conferencing solution and collaboration platform.
Zoom doesn't just stop at software, Zoom Rooms, the leading software-based conference room solution, features video and audio conferencing, wireless content sharing, and calendaring running on off-the-shelf hardware. Zoom Rooms suit any meeting or collaboration space, from huddle rooms to training centres.
Recognition from Gartner and its end-user community comes on the heels of numerous other achievements for Zoom thus far in 2018. Yuan was named Entrepreneur of the Year® for the Northern California region by Ernst & Young and earned the spot of #1 large company CEO in the US in the Glassdoor Employees' Choice Awards.
Zoom also won the Gold Stevie® Award for Large Computer Software Company of the Year, rAVe's Best of InfoComm 2018 Award in three categories, and Frost & Sullivan's Asia-Pacific Cloud Video Collaboration Provider of the Year.
It's safe to say Zoom is making a tremendous impact in the meeting solutions market, and by the looks of things, they're only getting started.
If you'd like to find out more about Zoom, register for our latest Zoom webinar.
Generation Digital is a Zoom Partner offering Zoom related services around implementation, adoption, training, Zoom Rooms installation and development. If you'd like to arrange a Zoom demo with Generation Digital, click here.
Gartner, Inc., Magic Quadrant for Meeting Solutions, Mike Fasciani, Tom Eagle, and Adam Preset, September 4, 2018. The report was previously titled Magic Quadrant for Web Conferencing.
Gartner, Inc., Gartner Peer Insights 'Voice of the Customer': Meeting Solutions Market, February 28, 2018