Last week, Workplace by Facebook announced the arrival of Zoom's chatbot to their ever-expanding list of integration partners. Workplace now has over 50 SaaS applications within their integration directory and it's only going to get bigger!
With the rise of 'best of breed' apps and workers becoming increasingly more mobile, Workplace has been built to be as versatile as the modern worker.
If you want to learn how to install Zoom's new chatbot and see how it works in real life scenarios, watch our demo video below:
RELATED
Workplace and Zoom: Designing an Agile Employee Experience
8 Reasons Why HR Professionals Love Using Zoom
Integrating Zoom with Workplace by Facebook
One of the most common questions we got from our webinar on designing an agile employee experience with Workplace and Zoom was "why should I launch Zoom if Workplace offers chat and video functionality"?
The answer is simple - because they're not the same.
Each platform offers unique and disruptive services to the enterprise and a lot of companies are using both tools to truly optimise collaboration in the workplace.
There is a little cross-over in functionality, but that shouldn't overshadow the abundance of amazing features that are specific to each tool.
Take a look at our feature comparison...
Workplace and Zoom are complimentary, not conflicting.
The features included in the video above are only PART of what each platform can offer.
If you're already using Zoom and Workplace, you need to enable the integration - it saves time and lets you use the amazing Zoom software within Workplace chat.
Here are my top 5 use cases for integrating Workplace and Zoom:
1. Logging meetings in Workplace groups
Once you have the chatbot enabled, you can start meetings within specific Workplace group messages. Once you have finished the meeting, the Zoom bot will send a summary of your meeting, followed by the recording.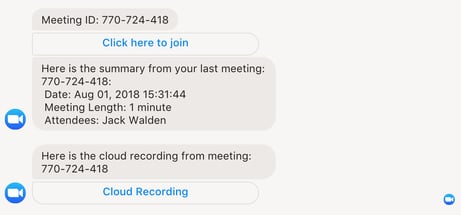 For example, I have a 'Marketing Team' Workplace group which includes all of our marketing team and once a week we have a group call to discuss what has happened in the week just gone and what our priorities are for next week.
The Zoom chatbot makes it really easy to read back through the group chat to see when our last meeting was, how long we spent talking and who attended.
The best part about it, if somebody missed the meeting due to sickness or conflicting arrangements, they could read the chat messages and click 'Cloud Recording' to catch up on what was discussed.
2. Avoid meeting setup and lost invite links
This applies to any team, in any organisation. Integrating your video conferencing system into your primary internal comms channel seems so obvious... why haven't I had this forever?
The time it takes to set up a meeting online, liaise with each attendee and send a calendar invite can be eliminated with the Zoom chatbot. Get everyone together in a Workplace group and start the meetings that way.
You could then follow-up with actions from the meeting in that same chat.
3. React quickly with an instant meeting
I was speaking to Katie, who is part of the sales team, about a follow-up strategy for a set of leads we generated from an event. We both clearly had a lot of ideas on how we could approach the follow-up, so I thought the conversation would flow a lot better with a face-to-face discussion.
A quick Zoom command had us a meeting link generated within seconds.
Remember: you need to add the Zoom bot to the conversation to @mention it in conversation.

4. Give every employee a voice
As well as the Zoom chatbot integration, Zoom has another integration which lets you live stream meetings from Zoom into your Workplace (timeline, group or event).
This is perfect for companywide announcements or Q&As.
This is mostly used for upper management to connect with front-line workers. It lets everyone in the organisation participate, regardless of location or job function.
It can also be used to live stream meetings into specific groups, for example, if a member of your recruitment team is conducting a first stage interview via Zoom, they can live stream the interview into the 'Recruitment' group so everyone in the team can watch and analyse.
5. Distribute your content quickly and effectively
Along with live streaming meetings, you can live stream webinars as well.
Creating webinars for new employees is a great way for them to digest content quickly. You could also live stream webinars on product updates or new policies.
We know that video is the most popular format for consuming content, so by sharing knowledge through Zoom's excellent webinar tool, it will drastically boost employee engagement in your business.
So, there you have it, if you'd like to know how Workplace and Zoom can help design an agile employee experience, watch our recorded webinar here.